Turita Travels
Posted on
September 2, 2019
Hello lovelies, I hope you are all well! I have been so looking forward to this post. Inspired by the travelling gnome from one of my favourite films, Le Fabuleux Destin d'Amélie Poulin, I've been wanting to start the Turita Travels series. In the film, Amelie persuades her father to follow his dream of travelling the world by kidnapping his garden gnome and having an air hostess friend of hers send pictures of it from all over the world in front of famous landmarks!
Turita is my travelling companion! She loves to explore, loves to take photos (and to have her photos taken) and is a joy to have around. She's easy going, very funny and an excellent map-reader. I must admit, she did cause quite a stir when she came out in public and received many complements by other travellers on her first trip abroad!
No prizes for guessing which capital city she visited first!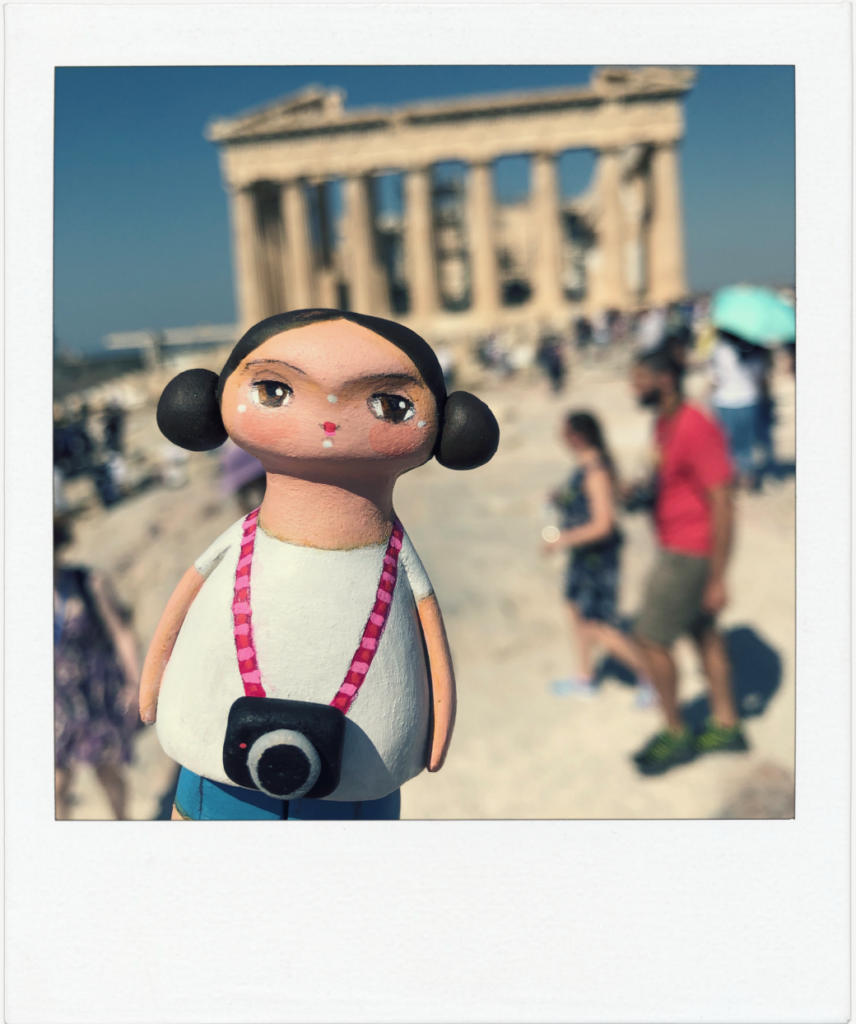 Yep, that's right Athens, Greece! Although, it was my hmm, 20th time in this city, maybe, probably, I've lost count, this time round was quite unique!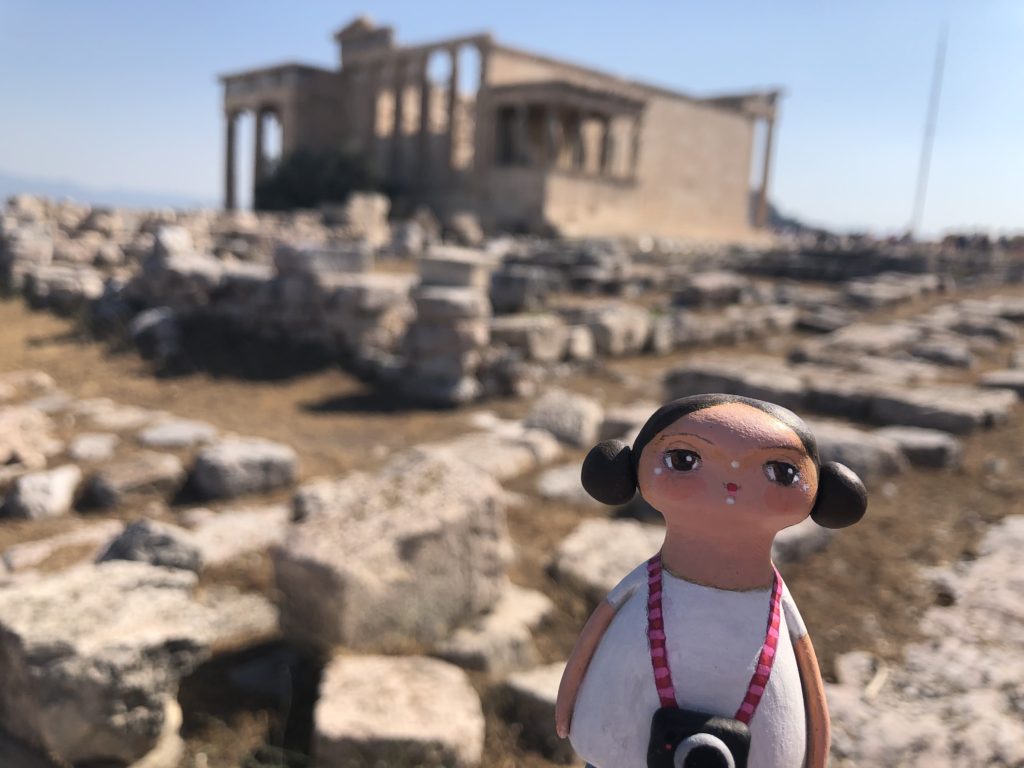 She was especially excited to see the caryatids at the Erechtheion Temple on the Acropolis. The caryatids are sculpted female figures or maidens which take the place of columns or pillars as architectural support. The ones at the temple are replicas. We saw the original figures at the Acropolis Museum, five of them, where they have been restored and kept there for safety. There is a blank space waiting to be filled by the sixth caryatid which is currently being held in the British Museum. She was removed by Lord Elgin in the early 19th century. She wants to come back home! That made Turita sad.
"For 2,500 years, the six sisters stood unflinching atop the Acropolis, as the fires of war blazed around them, bullets nicked their robes, and bombs scarred their curvaceous bodies. When one of them was kidnapped in the 19th century, legend had it that the other five could be heard weeping in the night."
From the article Acropolis Maidens Glow Anew, by Liz Alderman for the New York Times, July 7 2014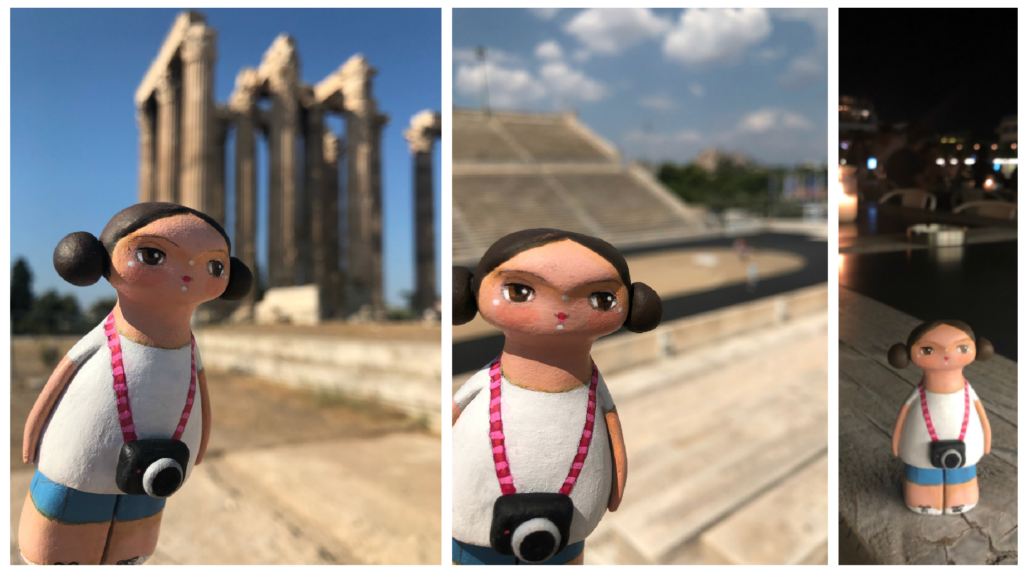 She was also lucky enough to spend some days on a Greek island! But I think that would be too difficult to ask you to guess which one from this photo alone. It's the beautiful island of Sifnos!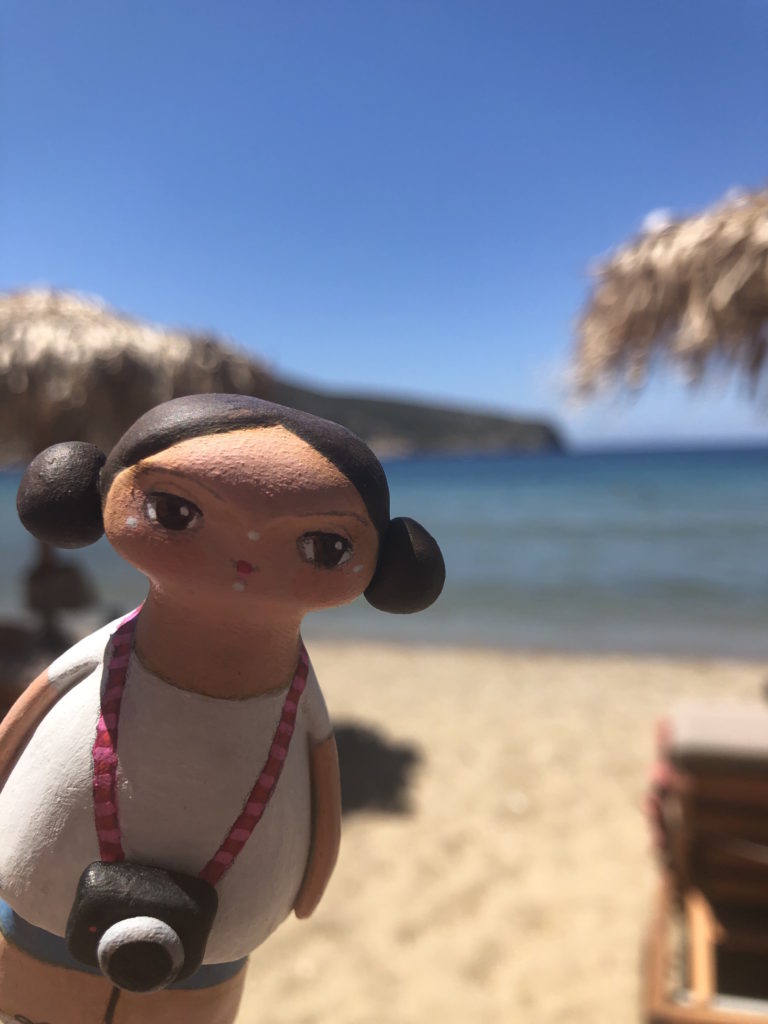 Turita asked me if I could include a couple of the photos she took!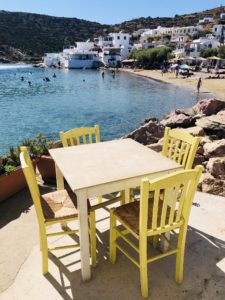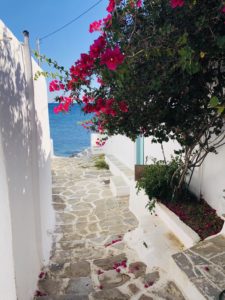 Just to let you know that I had no idea that this 'travelling gnome' idea was actually a thing! It was only when I did a bit of research that I realised!
From wikipedia.org:
"The travelling gnome (also known as the roaming gnome or gnoming) is when someone brings a garden gnome lawn ornament on a trip and takes pictures of it in front of famous landmarks. Some instances became national and international news stories, where people have stolen a garden gnome from a garden, and then sent the owner photos of the gnome for a period of time as a practical joke, before returning it.
The Garden Gnome Liberation Front in France is a community that considers gnoming to be stealing garden gnomes from other people's property, without the intention of returning them, as part of their purported mission to "free" gnomes and "return them to the wild", which has sometimes led to criminal charges, jail time, or fines.
The concept of the travelling gnome dates back to the 1970s when Henry Sunderland photographed his own garden gnomes, which he named Harry and Charlie, while he was travelling around Antarctica.
The earliest record of a prank involving a traveling gnome is from Australia in 1986 when the Sydney Morning Herald reported an "Eastern Suburbs gnome-owner was distressed when she discovered her gnome had been stolen at the weekend. A note was found in its place: 'Dear mum, couldn't stand the solitude any longer. Gone off to see the world. Don't be worried, I'll be back soon. Love Bilbo xxx.' "
Disclaimer: Turita comes along on my travels willingly and no gnomes were harmed during the making of this post! So, till the next episode of Turita Travels!
"

Oh the places you'll go.
– Dr.Seuss
Filakia, Sophie
P.S. You might like to look at my Amelie art doll here! Gnome and all!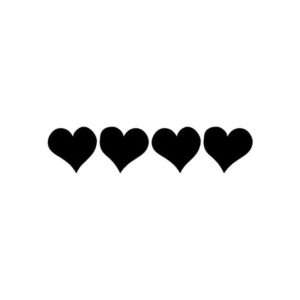 If you enjoyed this post, please consider sharing!