Welcome to

Love Art and Beyond

, the home of

SO SOPHIE mixed media art dolls

!
My name is
Sophie
and I am a mixed media doll artist!
I live in Cyprus and I am a mother of 2 boys. I work from home in my little studio. I love coffee and chocolate. I am moved by kindness. I cry when I read a quote that touches me. I often talk to my art dolls! I love visiting art galleries and museums. I love listening to music and secretly sing to a full auditorium! I am amazed and in awe of nature. I dislike fried eggs and face to face confrontations with snakes and cockroaches. I hate that unkindness is sometimes disguised as honesty. I am concerned with the state of our planet.
I like to describe my art dolls as quirky, whimsical and delightful. Although they may not be renowned for their smiles, you might even find that some are downright sulky, their cuteness will inevitably win you over once you get to know them a little better. But one thing is for sure, they are all one of a kind, with their own unique personality and story to tell.
I lovingly sculpt my dolls out of air dry clay and decorate them with acrylic paints, water soluble crayons and pencils, paint pens, sometimes glitter and sparkles, but always with a touch of magic!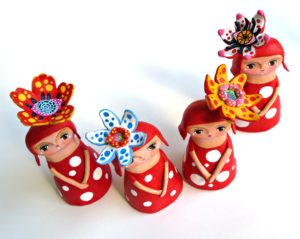 I  l o v e  c u s t o m  o r d e r s
Whatever the theme, whatever the occasion I would be delighted and honoured to create a SO SOPHIE mixed media art doll especially for you or your loved ones!
And just in case you're not sure of the theme of the art doll you want to gift and are worried you might not 'get it right' have no fear, the Love Art And Beyond Gift Voucher is available.
And if you
sign up
for my monthly Newsletter you may just be the next lucky subscriber to win a SO SOPHIE mixed media art doll (the next winner will be announced on July 31st 2020 so keep an eye on your inbox)! You can also find me on
Instagram
,
Facebook
,
Pinterest
and
YouTube
!
Thank you so much for stopping by and please don't hesitate to contact me by sending an email to
[email protected]
if you have a question!
Filakia, Sophie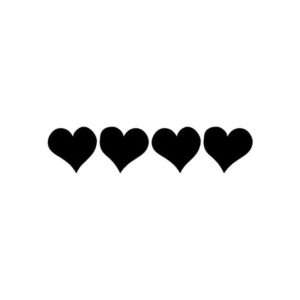 My Story
Although my university studies had nothing to do with art (Management Sciences and Information Systems!) and neither did my subsequent jobs, there was never a time when I was not up to something creative. There was a period in my life when I would think, "what a shame that I didn't study something to do with art, history of art, art and design, textile design, fine art." But you know, as you grow old you also become wiser, so I dared myself and said, "well, what's stopping you now?" And so I started taking online art courses. Lots of them. With different teachers, different styles, different supplies. I took every opportunity to learn and practice and broaden my art making skills.
And all the time, I was working in an information technology company and then a commercial bank, and was a mother of 2 young boys!  Even so, I made time in my busy day to work for what I loved the most. I made art one of my priorities! And when the opportunity came in June 2016, I decided to take a leap of faith, even to my own surprise, and take my creative dreams seriously. Since then, I have been taking small steps in my creative career; continuing to learn and grow and challenge myself, stepping out of my comfort zone and defining myself anew!
"

The deepest secret is that life is not a process of discovery, but a process of creation. You are not discovering yourself, but creating yourself anew. Seek therefore not to find out who you are, seek to determine who you want to be.
– Neale Donald Walsch