Maria Le Chat
Hello everyone! I hope you are well! Today I would like to introduce Maria Le Chat and there is a reason why! For a month or so now there has been cuteness overload in my garden! A mama cat and her kitten have become residents and it has been a joy to see them together! It's just adorable to watch the kitten play with its mama, especially with her tail, learn how to climb trees and more importantly how to climb down again! And when her mama comes back from her own adventures, how lovely to hear her meow and see her little one run to her in happiness! That baby-pink nose and those blue eyes fill my heart with warmth and an  overwhelming feel-good sensation that I can only describe as "Kitten-itis."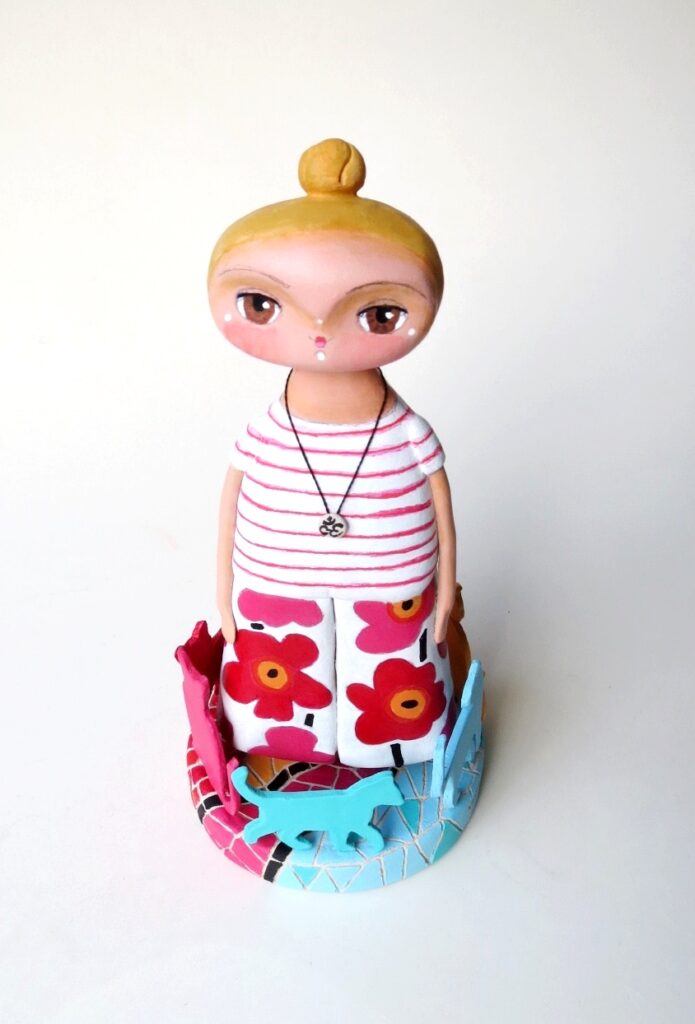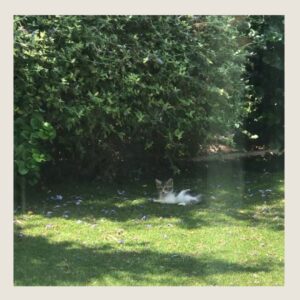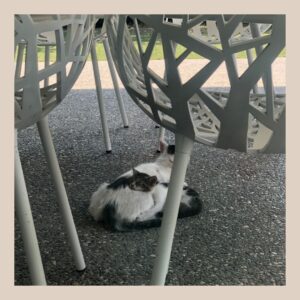 But, getting back to Maria Le Chat, she is a custom made art doll, a birthday gift from one sister to another! The brief I had was that lovely Maria loved cats, she has 6 of them, as well as patterns and bright colours and Gaudí! Maria Le Chat is as you can see surrounded by her cats. Cats are selective, independent and rather self-centred! But they are also clever, intuitive, adventurous and quite magical creatures. So much so, that in the words of Ernest Hemingway:
"One cat just leads to another."
♥︎ Bella ♥︎
♥︎ Boris ♥︎ ︎
♥︎ Eva ♥︎
♥︎ Gustavo ♥
♥︎ Lilo ♥︎
♥︎ Sunny ♥︎
Maria Le Chat is also mad about patterns! Whether in nature, art and design, architecture, everything around us really, she is always on the lookout!
"Finding patterns is the essence of wisdom."
– Dennis Prager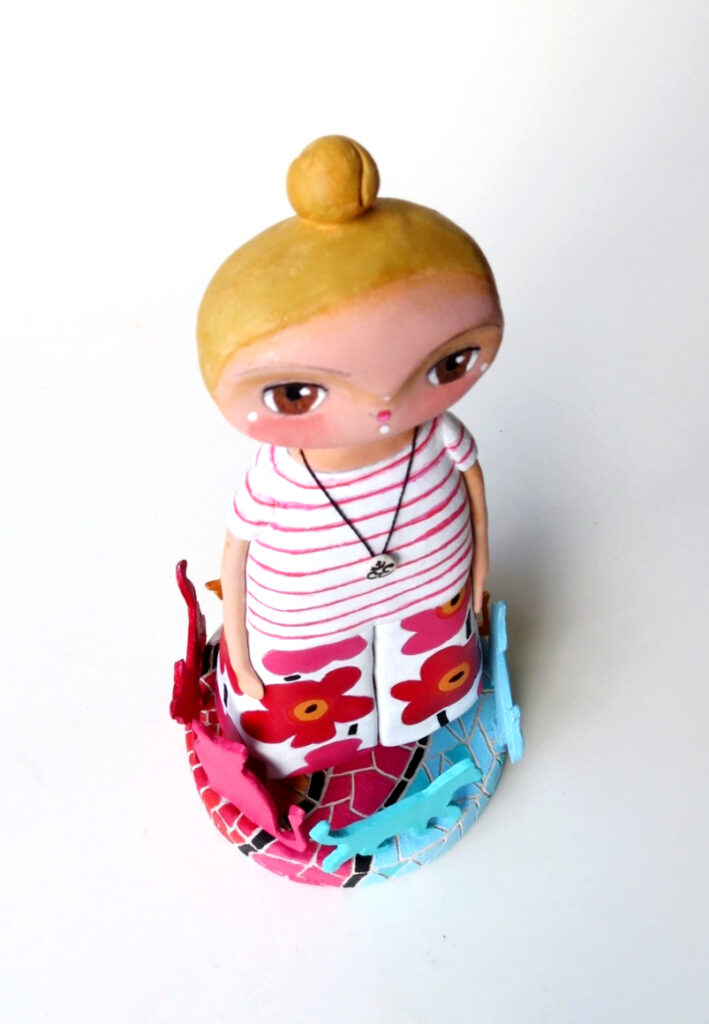 The mosaic base is inspired by the amazing mosaics of Antoni Gaudí. A great architect but also known for his attention to the smallest of details! His use of mosaic pattern is bold, fun and magical. He used single colors to bring out architectural features and shapes. Gaudí loved the trencadis technique of mosaic art, which uses irregular pieces of ceramic, glass or marble tiles.
One of Maria's favourite patterns is the classic Marimekko design created in 1964 by artist Maija Isola. Even though Marimekko founder Armi Ratia had publicly proclaimed a ban on flowers in Marimekko prints, Isola 'defied' the order and designed, not one, not two, but a whole collection of floral patterns, so modern and unique that Armi ended up taking eight of them. The Unikko design has become Marimekko's signature print! So, I added the pattern to her trousers!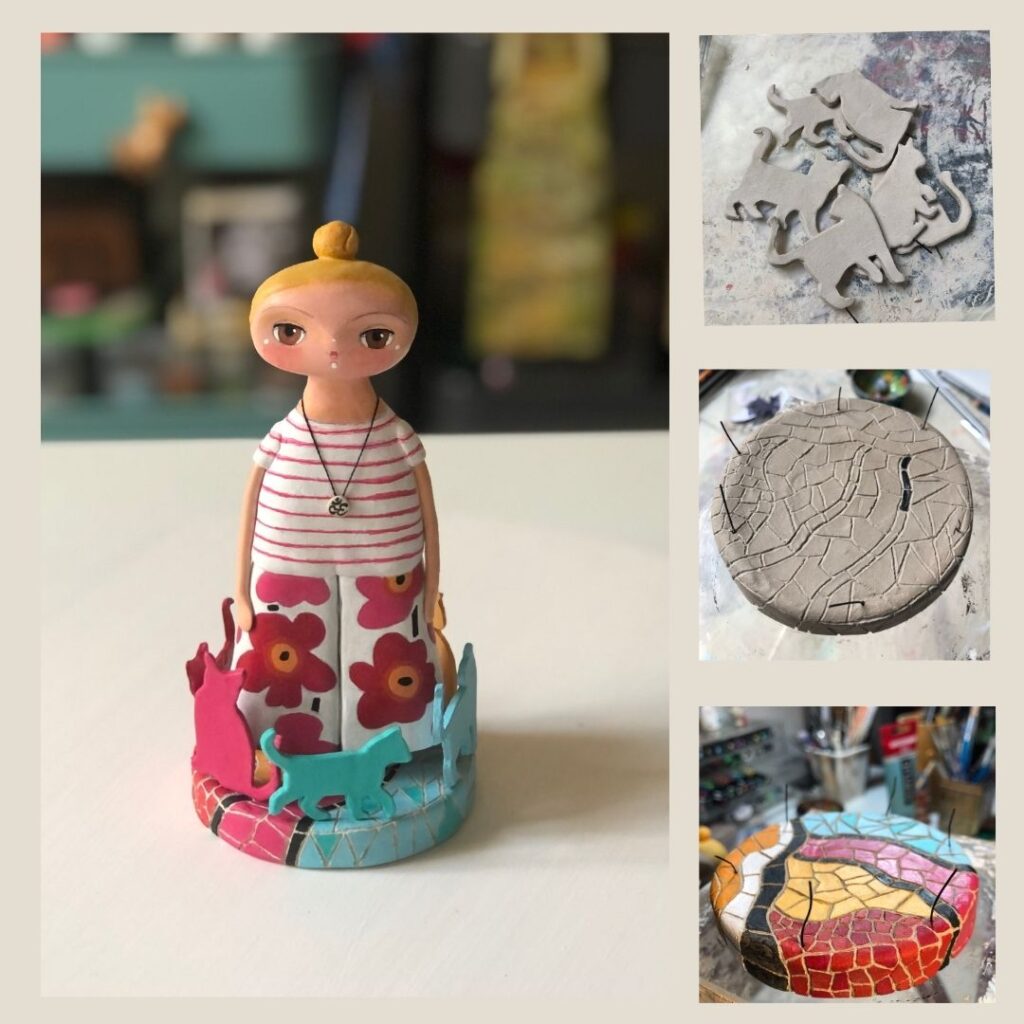 Well that's all for now! Take care, till next time!
Filakia, Sophie
P.S. If you enjoyed Maria Le Chat check out Maria Butterfly-Wings!
#inspiredby #gaudi #antonigaudi #marimekko #mosaic #sisterlove  #happybirthday #specialgift #customartdoll #OOAKartdoll #artdoll #claydoll #sculpture #figurines #sosophieartdoll #loveartandbeyond
If you enjoyed this post, please consider sharing!