My Athena!
I watched the live stream of the Dior Cruise 2022 on June 17th and was so inspired and moved! The show took place in the heart of the Panathenaic Stadium in Athens, Greece. Also known as Kallimarmaro or 'beautiful marble', it is the only stadium in the world that is built entirely of marble! Obviously I am biased but it was an amazing show!
Twenty braziers lit with fire and rows of searchlights created a magical atmosphere! The musical score was performed by the Symphony Orchestra of the Municipality of Athens accompanied by the wonderful Greek-American singer Ioanna Gika! The Athens night sky was brought to light with a fantastic firework display at the end of the show!
I was curious to find out more about the inspiration behind the designs and the creative process and was pleasantly surprised to discover that Dior and Maria Grazia Chiuri's involved the community through collaborations with local artisans. What a lovely way to honour the destination of the show!
For example, the tailor and embroiderer, Aristides Tzonevrakis from Argos, and his team embroidered adaptations of traditional Greek motifs from waistcoats and foustanelles, to adorn the iconic Dior 'Bar' jacket, as well as, the 'Dior Book Tote'! The Greek artist Christiana Solou was asked to create drawings of the female body in movement. Her seven mythological figures made up a design which was woven to create a beautiful fabric! On visiting the Benaki Museum in Athens Maria Grazia was so impressed with the atelier within the museum where braids are still made using the original machinery. Inspired by the fishermen's caps worn in Hydra, Atelier Tsalavoutas was asked to create a Dior inspired version decorated with braids from the museum atelier!
As you can imagine I wanted to create an art doll inspired by the show and to honour the collection. But there were so many beautiful looks to choose from. This is the one that inspired me the most! I love the black and white theme with a touch of gold. The Greek warrior/goddess stands elegant and strong. Full of beauty and wisdom. That's why I named her Athena after the goddess of wisdom and patron and protectress of the city of Athens.
I also fell in love with the makeup. So simple and fresh. The traditional Greek eye inspires Dior Makeup's Creative and Image Director Peter Philips to decorate the models' eyes with drops of pearls!
Wouldn't it be amazing if a future Dior show took place here in Cyprus? I can envision it, oh so clearly, at the ancient Kourion amphitheatre! On the hill of Kourion with the Mediterranean sea as a backdrop just before sunset. On the island of Aphrodite the goddess of love!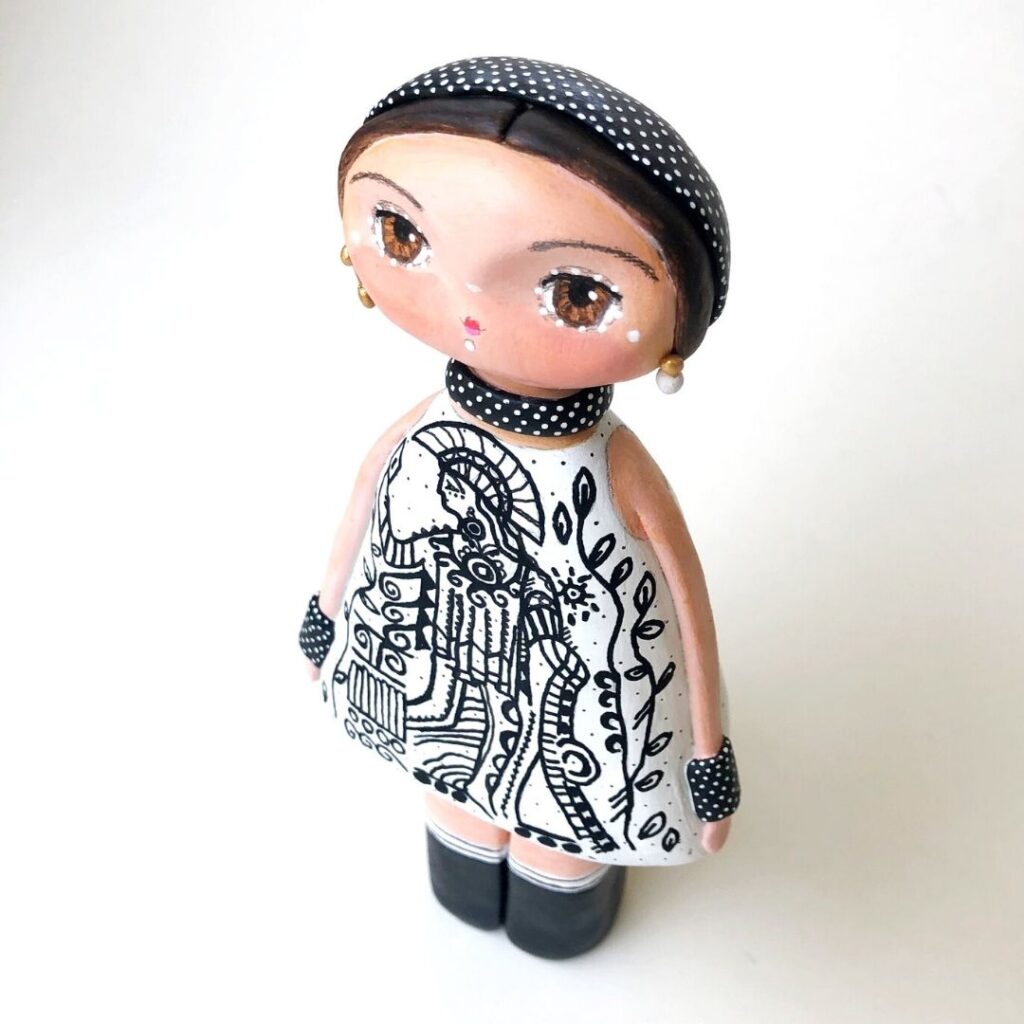 Filakia, Sophie
#inspiredby #dior #diorresort2022 #MariaGraziaChiuri #fashion #fashionshow #athens #Kallimarmaro #ancientgreece #goddessathena #customartdoll #OOAKartdoll #artdoll #claydoll #sculpture #figurines #sosophieartdoll #loveartandbeyond
If you enjoyed this post, please consider sharing!