Iris Apfel and the Big 100
Posted on
August 27, 2021
Hello lovelies! I hope you are all well! After a much needed break, I wanted to get back to posting with a 'bang', so what better way to do it than with 'Iris', inspired by the one and only Iris Apfel, who will be celebrating her 100th birthday this Sunday!
There were so many fantastic outfits and photographs to choose from as my inspiration! But I especially loved a series of photos by the photographer Luis Monteiro for Vogue, especially one where Iris is wearing an applique maxi skirt with an image of herself raising a glass of wine! In fact the skirt is from her 2018 collaboration with Bergdorf Goodman and a range of designers who created some exclusive new pieces. This skirt was designed by Stacey Bendet.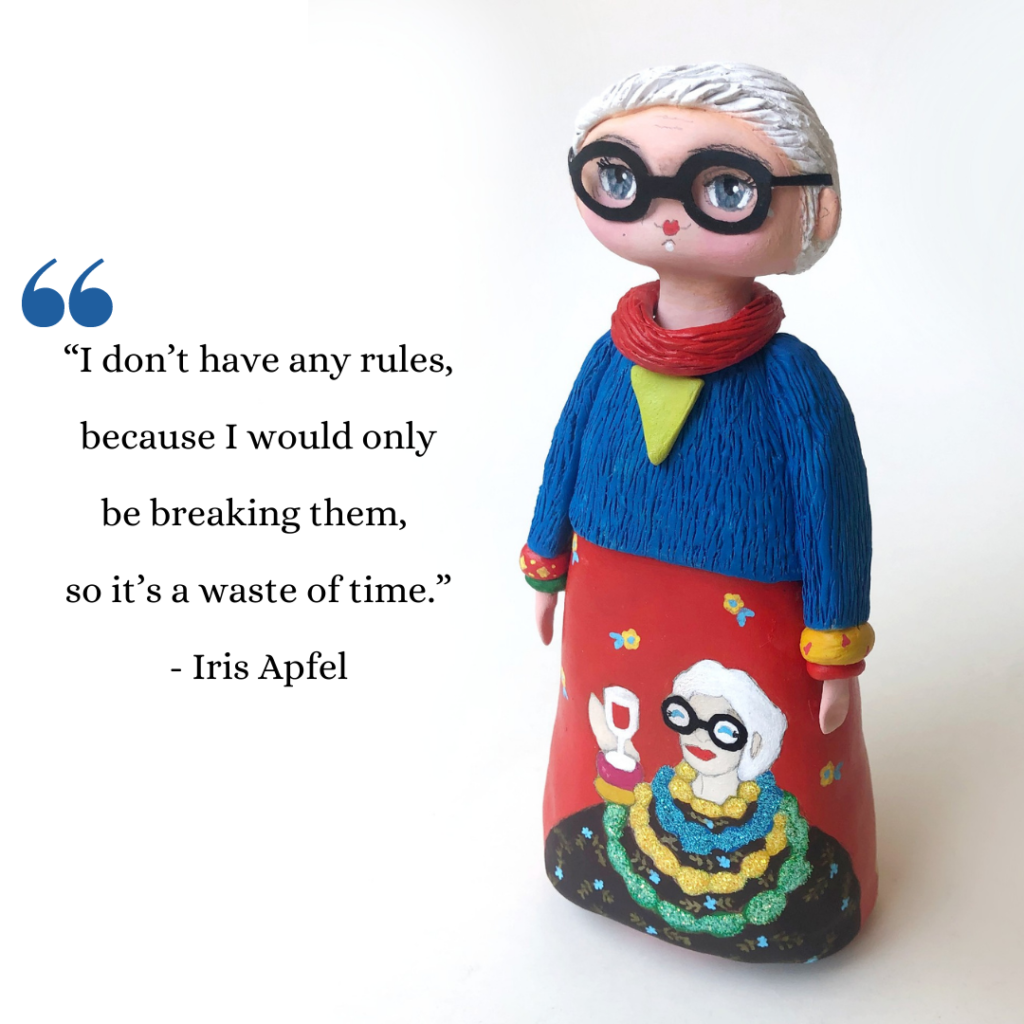 With her signature oversized spectacles, bright colours, patterns galore and layers and layers of accessories there can be no doubt that Iris Apfel is the epitome of joie de vivre! You can't imagine how much fun I had creating her! I also enjoyed watching the documentary Iris which really shows her zest for life as well as her well-developed and self-deprecating sense of humour.
Iris Apfel once said that, "Coco Chanel once said that what makes a woman look old is trying desperately to look young. Why should one be ashamed to be 84? Why do you have to say that you're 52? Nobody's going to believe you anyway, so why be such a fool? It's nice that you got to be so old. It's a blessing."
I will be turning 50 in October. Gulp! But I really do believe that the secret to positive ageing is to adopt the view that ageing is in fact a healthy, normal part of life. To be honest, I am actually quite excited and very grateful that I will be embarking on a new decade. My mindset is one of looking after myself more, physically and mentally, and to try to do whatever I can so that I can continue to do the things that I love and are important to me for many decades to come. Another year, another blessing!
Filakia, Sophie
#inspiredby #irisapfel #iris100 #irisapfelart #fashionicon #happybirthday #artdoll #OOAKartdoll #claydoll
Iris Apfel
If you enjoyed this post, please consider sharing!