Do I Hear Wedding Bells?
Hello my lovelies! How are you?
I can hear wedding bells, can you? Summer is upon us, there have been further relaxations to Covid-19 measures and couples can finally go ahead with their wedding plans, even though they may be different to how they'd imagined before the pandemic! Weddings may be happening on a smaller scale with emphasis on safety but couples should try to remember that what is most important is that it's about the two of them and their love. It's all about their commitment to each other. And at the end of the day the wedding day will come and go, but their love will grow forever more! Awwww!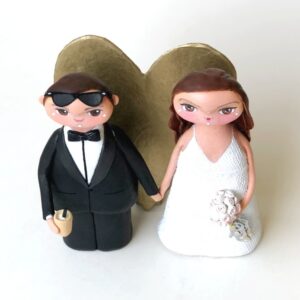 Summer months have always been very popular for weddings. And apart from the obvious reasons of warmer weather and longer days mythology might also be partly to blame. The month of June takes its name from Juno, the Roman goddess of love and marriage, so it seems like 'I do' and June are destined to go together. And listen to this, in medieval times June was the best time for people to take their yearly bath, so what better time to get married than when everyone was clean and pleasant smelling! And, of course, let's not forget the song from one of my favourite films/musicals Seven Brides for Seven Brothers:
"

Oh, they say when you marry in June you're a bride all your life, and the bridegroom who marries in June gets a sweet-heart for a wife.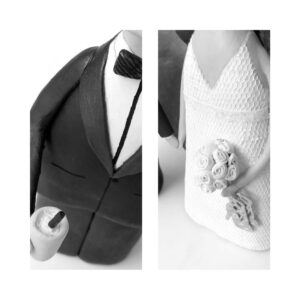 So hopefully you get married once, if at all, if that's what you want to do! But you have already been and will be a wedding guest many, many times. One of the 'struggles' of course is what to wear, and even more challenging, what gift to take!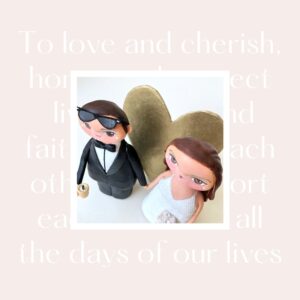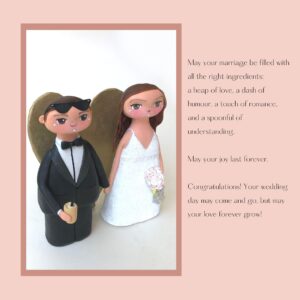 When I was commissioned to create this beautiful couple I was indeed so excited and honoured! What a wonderful gift to the newlyweds, something that they can have and treasure for many years to come. Something that is so unique and personalised. In fact the lovely lady who commissioned me to create them is the sister of the bride so she had all the 'inside' information about the wedding dress and the groom's outfit! We added some quirky details that are so characteristic of the groom, his iced-coffee and sunglasses, and the beautiful bride is holding her beloved wedding shoes! Congratulations to the lovely couple!
Have a special wedding coming up? You know where to find me!
Filakia, Sophie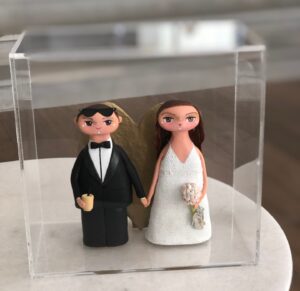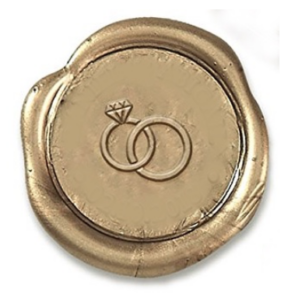 P.S. Send me a message to find out more about how to commission!
P.P.S. Check out this other post about another special celebration!
#inspiredby #congratulations #husbandandwife #wedding #weddinggift #weddingkeepsake #specialgift #customartdoll #OOAKartdoll #artdoll #claydoll #sculpture #figurines #sosophieartdoll #loveartandbeyond
If you enjoyed this post, please consider sharing!