Maria de Picasso
Posted on
October 25, 2019
Hello lovelies and I hope you are all well! I am so excited about today's post. Well actually, Turita and I, both are excited! Turita was super excited about the last post she was featured in (see it HERE if you missed it) but was concerned that she wouldn't be making as many appearances as she would like, since, let's face it, how many trips abroad would we be taking? So, after quite a heated discussion we came to the agreement that instead of "Turita Travels" we will call her series "Turita Explores". This opens up a whole range of possibilities and opportunities for her to make an appearance! So, welcome to the first episode of Turita Explores!
Our first outing was visiting the Cyprus Museum for the "Picasso at the Cyprus Museum: works in clay" exhibition.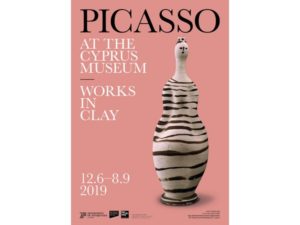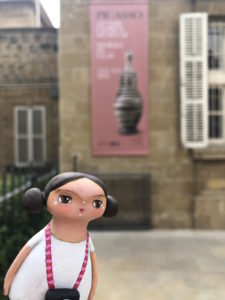 I have been fortunate enough to see many of Pablo Picasso's paintings in museums around the world and look forward to seeing many more in the future. He is undoubtedly one of my favourite artists, but this has not always been the case. Finding out about his life, where he started and how he got to be one of the greatest 20th century artists gives so much more meaning to his creations, even if at first glance, some of them may not take my fancy. His genius just sweeps you away. And now, between you and me, I think I have a bit of a crush, especially after recently watching National Geographic's Genius series about his life, starring Antonio Banderas and Alex Rich! Highly recommended!
Going to the exhibition I didn't really know what to expect. It was the first time I (we) saw some of his original clay creations! Clay is what I've been working with mainly for my art dolls these past years, albeit air dry clay, so I was especially excited. And I was not disappointed. My heart skipped a beat in front of each and every one of the pieces on display. Bold, quirky, fantastical, with such an attitude. Picasso found this new passion with clay when he was 65 years old! He had no problem 'starting from scratch', experimenting, learning and working obsessively to create ceramics. What an inspiring and positive message for all of us. It's never too late!
Painter and Sculptor
His ceramic works should by no means be regarded as a minor sideline to his paintings. Some art historians believe that Picasso's ceramics are the apotheosis of his artistic journey. Over a period of twenty years or so he sculpted, designed, decorated, glazed, carved and engraved over 3500 fired clay objects! This huge body of work shows his undying need to create from a place of passion and curiosity. He was always open to new materials and new sources of inspiration. He loved to see things in existing objects and transform them into something new, a concept so relevant still, and even more so, today. There was a video on show at the exhibition showing Picasso in a pottery workshop taking a clay vase, which was still wet, made by another potter, and transforming it into a dove with ease and playfulness.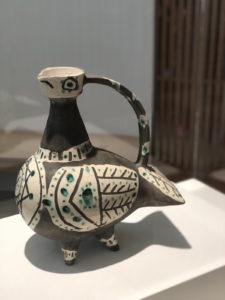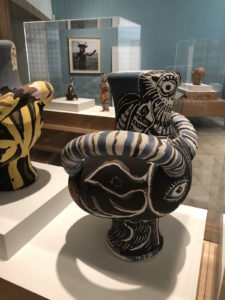 Cypriot clay antiquities were also on display, examples of the common shapes, motifs and themes found in the works of the 'anonymous creators of antiquity' and Picasso. His work was often influenced and inspired by archaic and tribal art as well as other artists and, of course, the women of his life.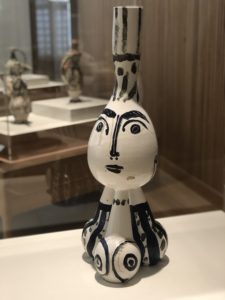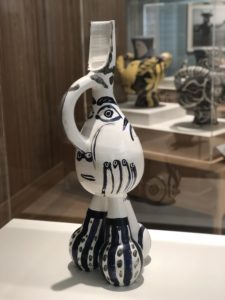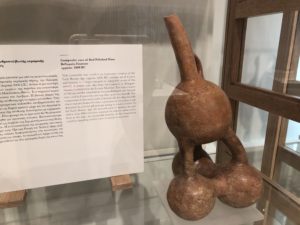 Watch THIS to get a wonderful two and a half minute summary of Picasso and ceramics from Sotheby's!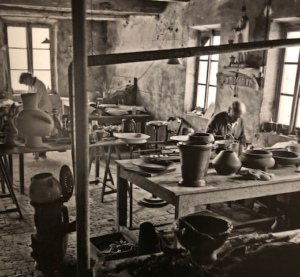 Picasso experimenting at the Madoura workshop, photo by Edward Quinn (1920-1997)
My inspiration for Maria de Picasso
Of course I could not resist, and inspired by one of the pieces there, I created my own version/keepsake! Her name is Maria de Picasso. I loved being able to experiment with a different body shape, colours and brush strokes. As much as I love my commissioned art dolls I try make time for personal projects too. Creative exploration, personal development and learning are so important for artists.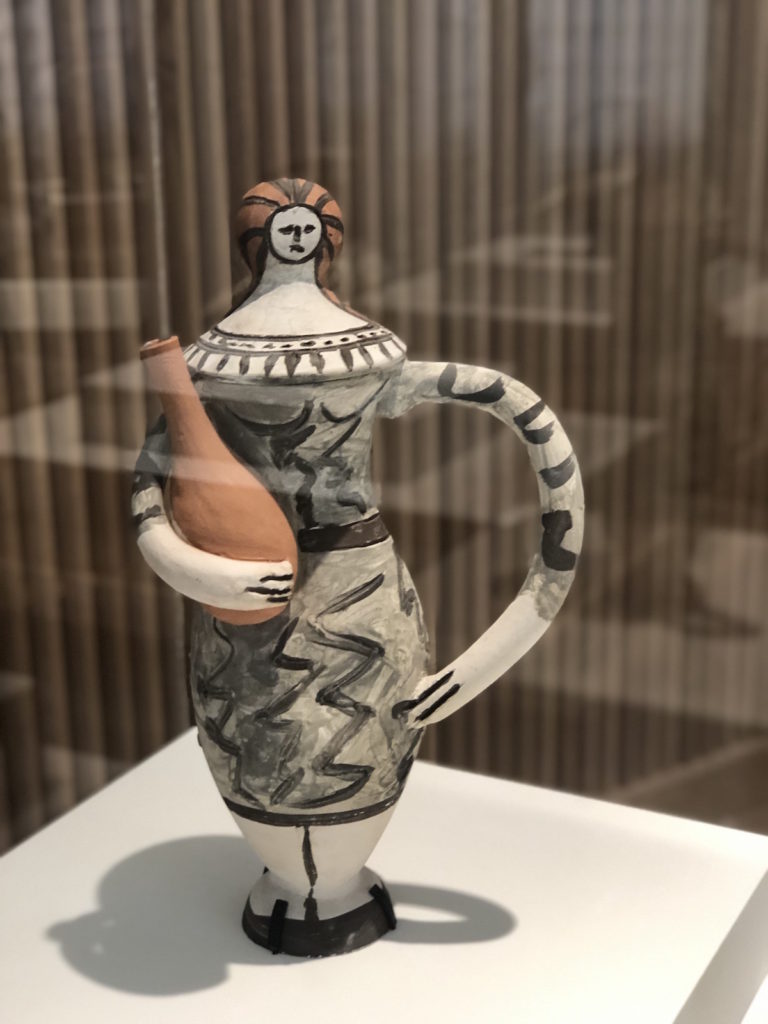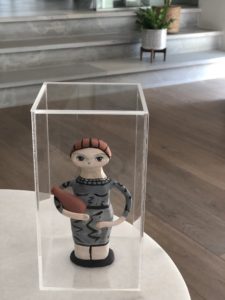 I admit that this was actually my first time visiting the Cyprus Museum. As I hastily walked through the museum to get to the Picasso Exhibition some amazing exhibits caught my eye. Turita and I will revisit very soon!
Oh, and before I forget, it is Pablo Picasso's birthday today!
Filakia, Sophie (and Turita)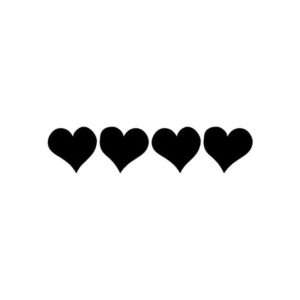 If you enjoyed this post, please consider sharing!