Happy Lunar New Year
Posted on
February 1, 2022
Hello lovelies, I hope you are well! Today I am so excited to introduce Ying Yue and Mu Laohu which I created to honour the Lunar New Year celebration and a lovely excuse to send you wishes of health, prosperity and abundance! I just love to be inspired and learn about festivities from all around the world, even if they are not celebrated where I live, here in Cyprus.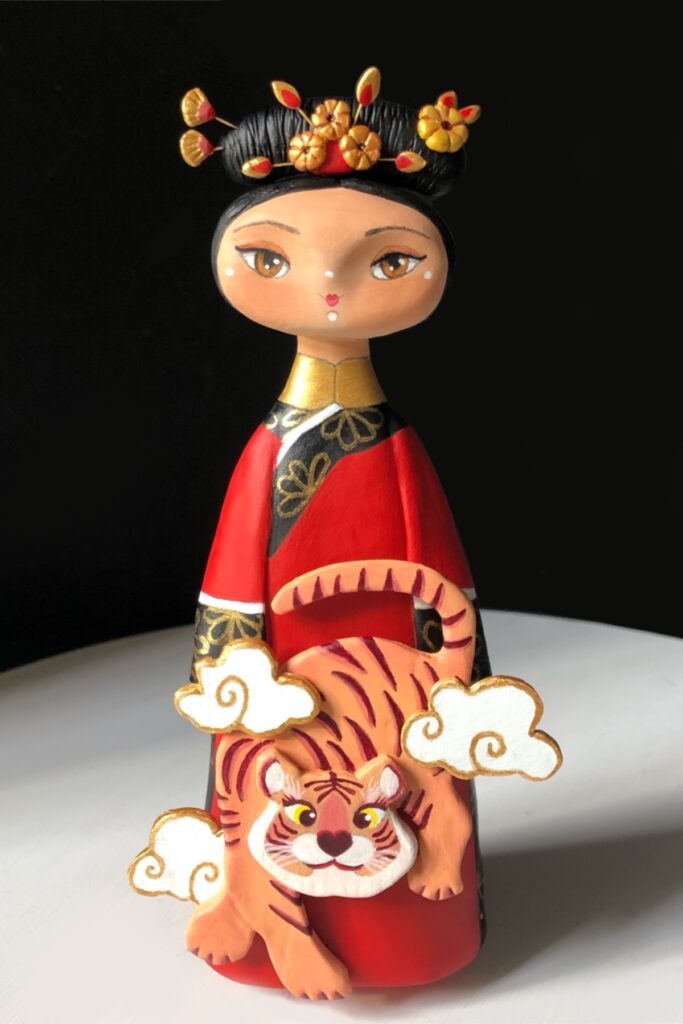 This was also the perfect opportunity to create an oriental inspired art doll, something that I have wanted to do for such a long time. Even though I have made an art doll inspired by
kintsugi
(the Japanese art of putting broken pottery pieces back together with gold) for some reason I didn't think to make her face look more oriental too! So I made a subtle change to the shape of Ying Yue's eyes. She looks quite adorable, don't you think?
I must admit the tigress was quite challenging because I wasn't really sure of the style. Mu Laohu is in fact my third attempt and I love how she turned out. Her face is sweet and calm. I also played around with the colours, starting off with orange and black for the stripes but they were just too harsh. In the end I used naples yellow red as the main colour and perylene violet for the stripes.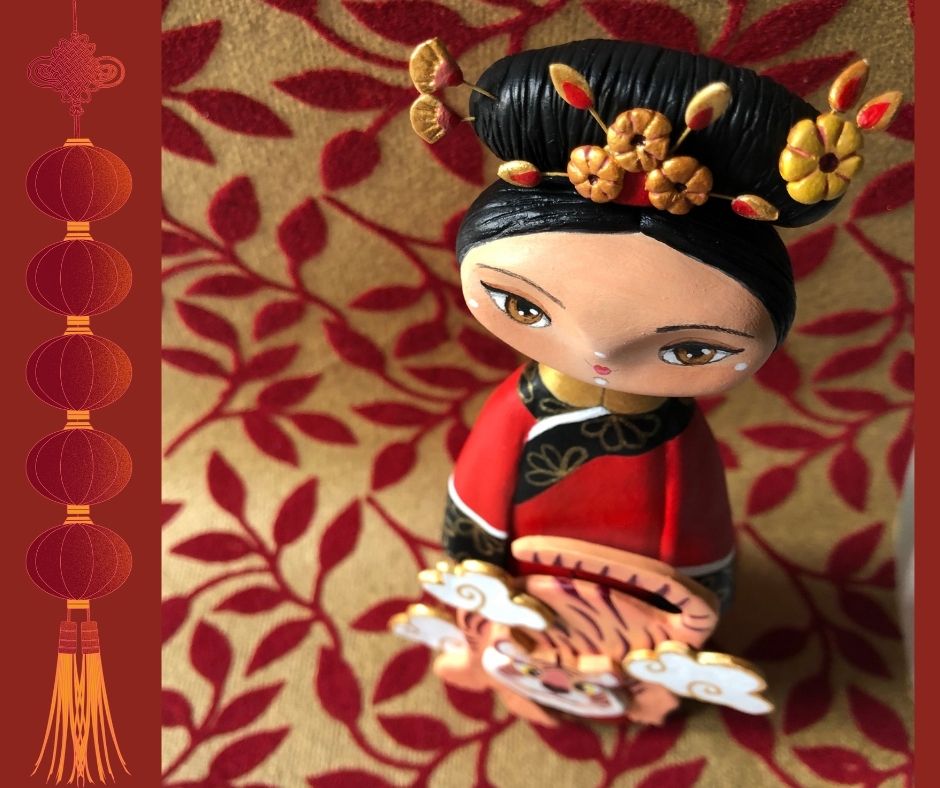 I included gold lined clouds around the tigress, as if she is floating in the sky! Clouds are important elements in traditional Chinese art. Since they are created between earth and heaven they are symbols of celestial mobility, many gods and immortals use them to travel! But they are also considered very lucky!
I kept Ying Yue's outfit quite simple to give more emphasis on Mu Laohu. But I could not resist creating some special  accessories to adorn her hair!
As for their names, Ying Yue
means 'reflection of the moon' since we are referring to a new lunar year and Mu Laohu is from the Chinese word for tigress!
Mu Laohu wants to reminds us that,
"

Courage doesn't always roar. Sometimes, it's that quiet voice at the end of the day that says…I will try again tomorrow!
#inspiredby #yearofthetiger #lunarnewyear #chinesenewyear #tigerart #artdoll#ooakartdoll
If you enjoyed this post, please consider sharing!