Sylvie, The Forest Nymph
Posted on
October 14, 2020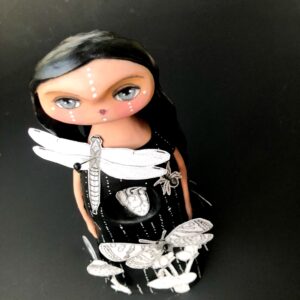 Hello my lovelies, I hope you are well, as well as possible! Today I want to introduce Sylvie which I created to take part in the Exhibit 8 Black and White exhibition in Limassol, Cyprus. Black and white made me think of pencil and paper so I decided to add some hand drawn elements to a doll wearing a black dress. In fact, last year while waiting to pick up my boys from school, I noticed some mushrooms on the side of a road and took some photos of them. I have wanted to draw them ever since. This was the perfect opportunity and sparked the idea of creating a forest nymph art doll.
Aren't the mushrooms beautiful? I loved them so much that I created a Pinterest board devoted to mushrooms. There are some amazing mushrooms out there! These are shaggy ink-cap mushrooms or Coprinus comatus. It took me quite a while to figure out that they are the same mushrooms at different stages of the life cycle. I also had an old photo I took of a dragonfly in my garden. Isn't it gorgeous? It is the scarlet dragonfly or Crocothemis erythraea. A friend of mine who is an expert identified it for me!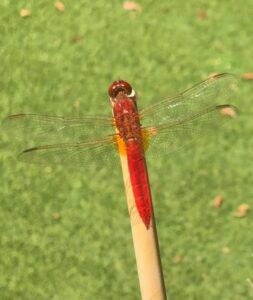 So I did some more research online and chose some flowers and other insects/spiders we can find in Cyprus to draw and include on my doll.
♥ Cyclamen (Cyclamen cyprium) ♥ Poppy (Papaver cyprium) ♥ Crown daisy (Chrysanthemum coropnarius) ♥ Asphodel (Asphodel ramous) ♥ Leopard butterfly moth (Cigaritis acamas cypriaca) ♥ Black widow spider (Lactrodectus tredecimguttatus) ♥ Negro beetle bug (Canthophorus impressus)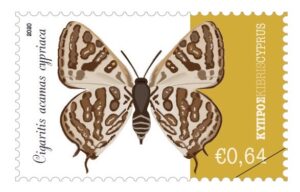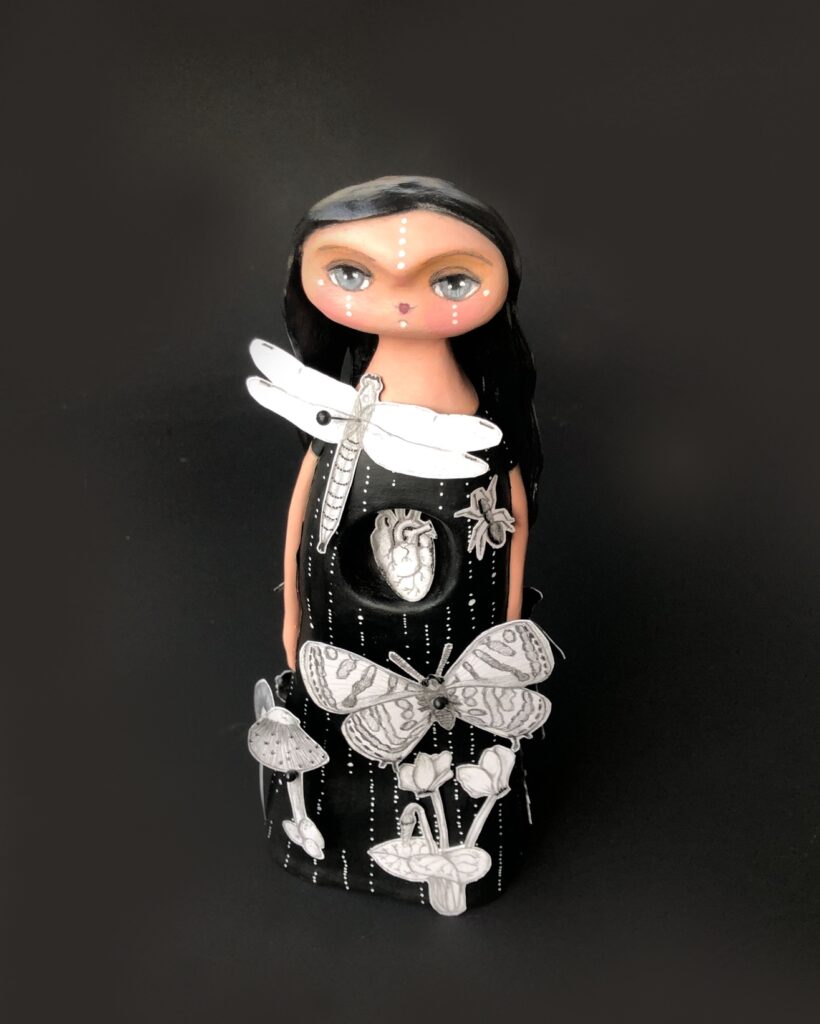 And here she is. Her name, Sylvie, is of French origin and means 'from the forest'. How fitting for this mysterious forest nymph.
If you are curious and patient enough you might get a glimpse of her enwreathed with flora and fauna in the depths of the enchanted forest that is Troodos. My goodness, count yourself extremely lucky if you do!
The cyclamen, poppy, crown daisy and asphodel flowers adorn her path. The scarlet dragonfly and leopard butterfly guide her from above and the black widow spider and negro bug beetle protect her from danger.
It is so easy for her to get lost in the shadows of the forest but she knows, by now, that as long as she uses her heart as her compass, she will always find herself back on her path and in the light.
She is on exhibit at the Exhibit 8 Gallery in Limassol so if you have the opportunity she'd love to meet you. And you'll get to see the other black and white inspired pieces of art by a very talented group of artists!
I hope Sylvie was able to distract you, even for a moment, because I think a bit of distraction is something we all need right now. Stay safe!
Filakia, Sophie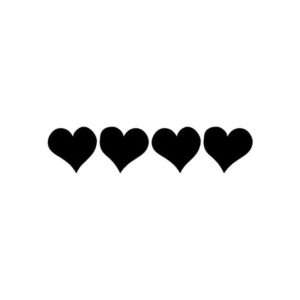 If you enjoyed this post, please consider sharing!