Maya Angelou
Posted on
October 5, 2020
Hello everyone! I hope you are all well. It's been a while since I last posted. I've been busy working on some exciting projects which I will let you know about when I can! But today I am very happy to introduce my Maya, inspired by the wonderful Maya Angelou.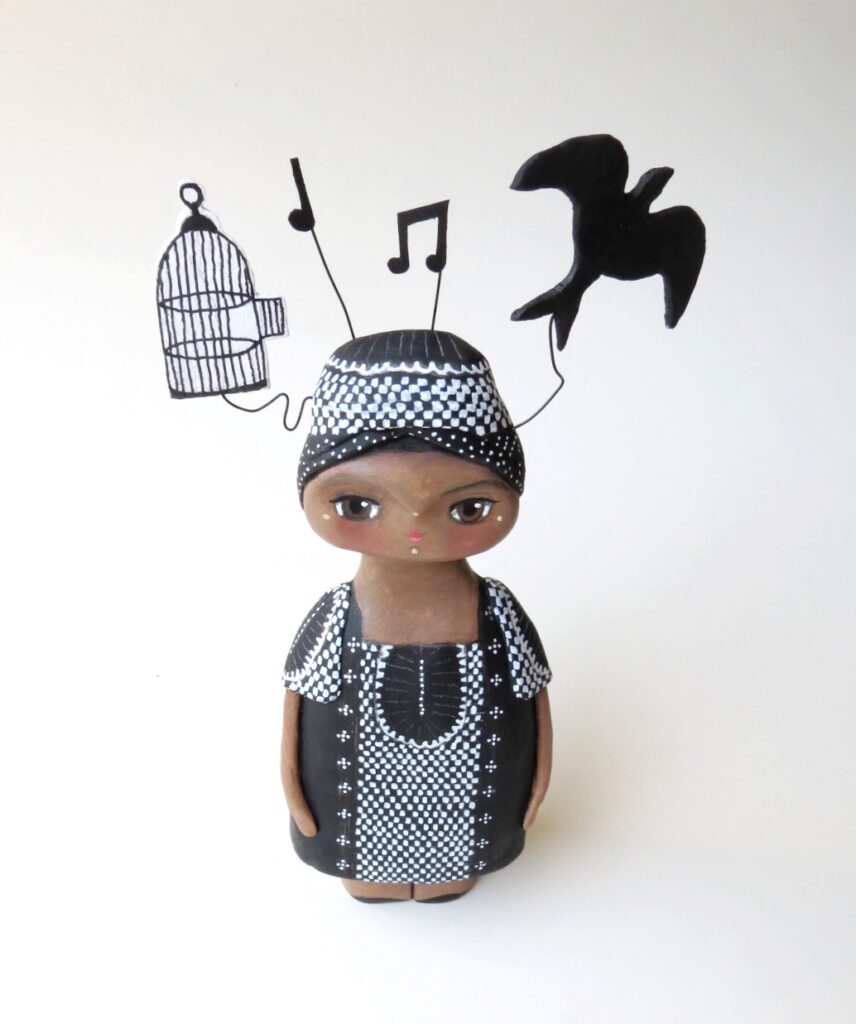 When Dollmakers.Showcase on Instagram made an open call for their History Makers Showcase I couldn't wait to take part. But I didn't really have an existing suitable art doll to enter. Well, I have my Frida Kahlo dolls, but I really felt the need to try something new. I wanted to choose someone that inspired me with their written word, who overcame many difficulties and obstacles and really made a difference (just like Frida Kahlo)!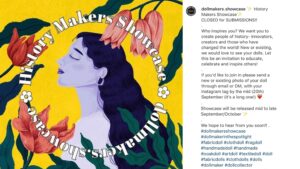 And then Maya Angelou came to mind. Her quotes, which I see often on social media, always inspire me. I do love quotes. I carried out some research to find out more about her life and I watched the film I Know Why the Caged Bird Sings (1979) which is based on Maya Angelou's autobiography with the same name. It is the first in a seven-volume series and is a depiction of Maya's life as a young girl in Stamps, Arkansas.  It is frequently banned in schools and libraries since it addresses issues of rape, racism and molestation, all of which Angelou was a victim of during her adolescence and younger years. But it also shows how her strength of character and her deep love of literature helped her overcome racism and deep trauma. A beacon of hope to inspire us and give us strength to overcome any difficulties and obstacles that may come our way.
"

We delight in the beauty of the butterfly but rarely admit the changes it has gone through to achieve that beauty.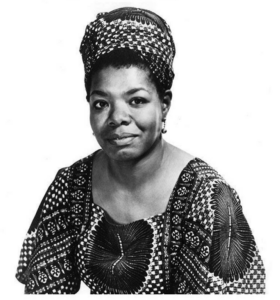 I chose one of Maya Angelou's outfits where she is wearing one of her beloved head scarves and a beautiful African-inspired dress. She wore her hair up in a head scarf on many occasions! I actually found something she said about her head scarf habit to The Daily Beast magazine in 2013: "Well, I was married a few times and one of my husbands was jealous of me writing. When I write, I tend to twist my hair…he'd accuse me, and say, "You've been writing!" … He could tell because of my hair, so I learned to hide my hair with a turban of some sort."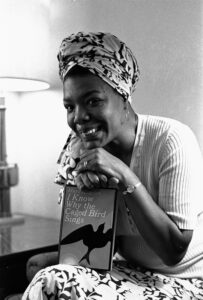 The bird cage, musical notes and bird silhouette are of course in reference to her book. Maya is the first doll of colour I have made and I found it quite challenging to get the colour of the skin to my liking. I must admit I love the way she came out! And it was the perfect opportunity to find out more about this amazing lady.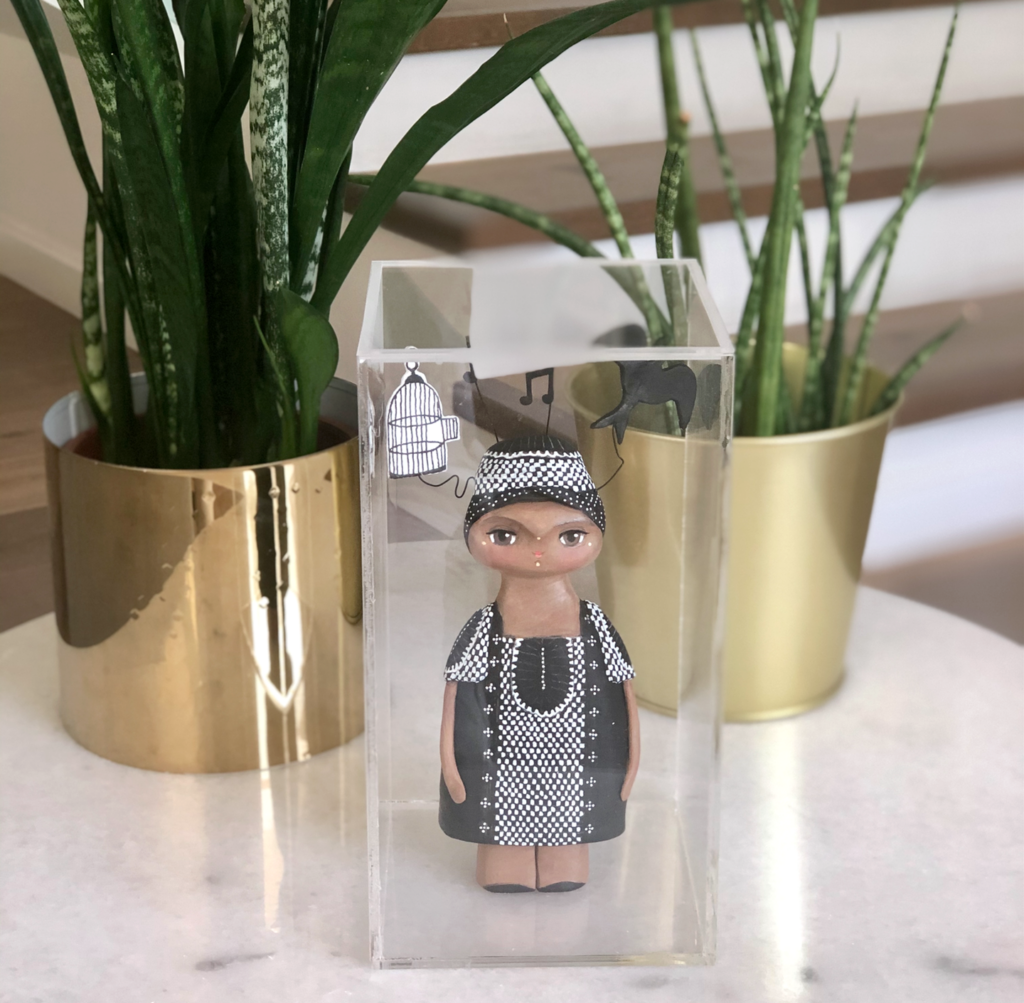 "

I write about being a Black American woman, however, I am always talking about what it's like to be a human being. This is how we are, what makes us laugh, and this is how we fall and how we somehow, amazingly, stand up again.
Before I started painting my Maya art doll I did some research online about how to mix a darker coloured skin colour. And it was during this search that I stumbled across the 'doll tests' carried out by Mamie and Kenneth Clark in the 1940's. They were a husband-and-wife team of African-American psychologists who devoted their life's work to understanding and helping heal children's racial biases. During the tests a majority of African-American children showed a preference for dolls with white skin instead of black ones. The children were asked to identify the dolls in a number of ways: the one they wanted to play with, the one that looked 'white', 'coloured', or 'Negro', the one that was 'good' or 'bad', 'pretty' or 'ugly'. These deceptively simple doll tests helped convince the Supreme Court to stamp down school segregation in the landmark 1954 case Brown v. Board of Education. The case overturned the so called 'separate-but-equal' segregation in the United States.
Some of the responses of the children in the tests are truly heartbreaking.
And I want to say to every child, you are beautiful.
Coming back to Maya Angelou, in 2011 President Obama awarded her the Presidential Medal of Freedom in 2011 and quoted these lines she had written: 'History, despite its wrenching pain, cannot be unlived, but if faced with courage, need not be lived again.' Let this be a lesson to all of us.
Filakia, Sophie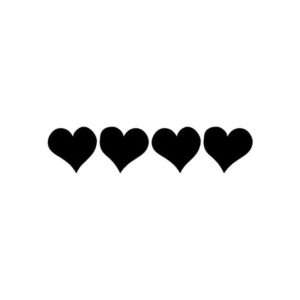 If you enjoyed this post, please consider sharing!