Game of Thrones and Daenerys Targaryen
Hello lovelies! I hope you are all well! I am so excited to present my Game of Thrones art doll of Daenerys Targaryen. This custom made art doll was truly a pleasure to create and also rather challenging, which you know I love. You see she was commissioned by an avid enthusiast of Game of Thrones, whereas I, on the other hand, had not watched a single episode! But her description of Daenerys was so passionate that I was intrigued; I felt like she was describing a historic person rather than a character in a television series. And when she gave me artistic freedom to do what I wanted, well, I couldn't wait to get started!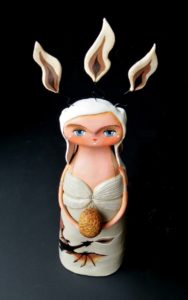 The reason she wanted Daenerys as an art doll really made an impression on me. Her struggles and triumphs, her transformation from helpless to all powerful; an all powerful woman. Her description made me really curious to find out more. I even ended up watching the first episode! So, after lots of online research, reading about Daenerys' character development throughout the series, her costumes, her loves and enemies, etc, etc, I made a sketch, just like I always do, and got started.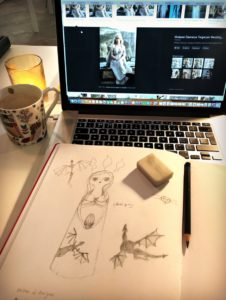 I decided create her wearing her moon-coloured wedding dress because of the events it was tied to and all that it seemed to symbolise. Khal Drogo, whom she was married off to, was imposed on her. But their marriage went through many phases, just like the phases of the moon, and their relationship was intense as it was short. Theirs was a tragic love story. 
"

Yer Jalan Antthirari Anni.
(Moon of my life)
– DROGO
"

Shekh Ma Shieraki Anni.
(My Sun and Stars)
– DAENERYS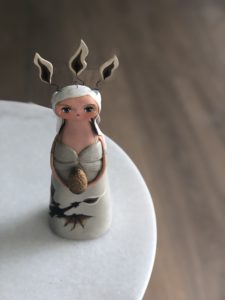 Her wedding dress also symbolises her transformation from a helpless, timid and scared girl to a courageous, confident and strong woman. This is the dress that she wears when she walks into the flames of Drogo's funeral pyre, seemingly to die, only to emerge at dawn completely unscathed and naked. And not alone! The three petrified dragon eggs that she had with her, a gift at her wedding, miraculously hatch in the fire!
For She is the Bride of Fire. She is the Unburnt.  She is the Mother of Dragons.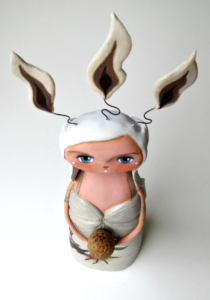 The moon colour of her dress and her white hair really drew me in and I enjoyed using neutral, pale tones, for the dragon egg, dragon, and even for the flames. By keeping the flames in neutral tones too, and not using the expected red, orange and yellow, I wanted to show that not only can fire do her no harm, but that she had also harnessed the power of fire, dragon fire!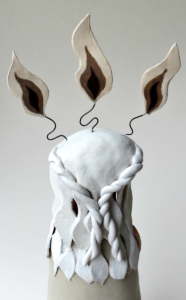 There are for sure many, many quotes from Daenerys throughout the seasons of Game of Thrones but there is one I came upon that I love.
"

Do you know what kept me standing through all those years in exile? Faith. Not in any gods, not in myths and legends, in myself. In Daenerys Targaryen.
Faith in myself. Learning to believe in ourselves can open up endless possibilities in our lives. And yes, there may be times, many times, when fear and self-doubt makes this difficult, almost impossible, to do. But we owe it to ourselves to be our number one advocate. Watch THIS if you want some motivation on those difficult days.
Because, in the words of the beautiful Marie Forleo, "The world needs that special gift that only you have."
Filakia, Sophie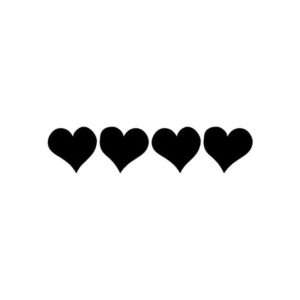 P.S. Have you signed up yet? As a big, big thank you for all your support I am so happy to announce that I am offering all of my subscribers a chance to win a SO SOPHIE mixed media art doll in a special draw that will take place on July 31st 2019. If you have already signed up, great, you'll be automatically entered, but if you haven't or you can't remember if you have, then please do! You might just be that lucky winner! Sign up HERE!
If you enjoyed this post, please consider sharing!