Oh Venice!
Posted on
August 20, 2018
Hello everyone! I know, I know, I haven't been around for quite a while, summer holidays, etc, etc, but I have something extra special to share with you today. I am so happy to introduce Venezia! When I was asked to make a SO SOPHIE art doll inspired by Venice, I was excited albeit a little overwhelmed! How could I make a doll inspired by Venice, undoubtedly one of the most alluring and evocative places in the world? And she was to be gifted to a young lady who had studied in Venice and, hence, soaked up all that magic? Hmmm…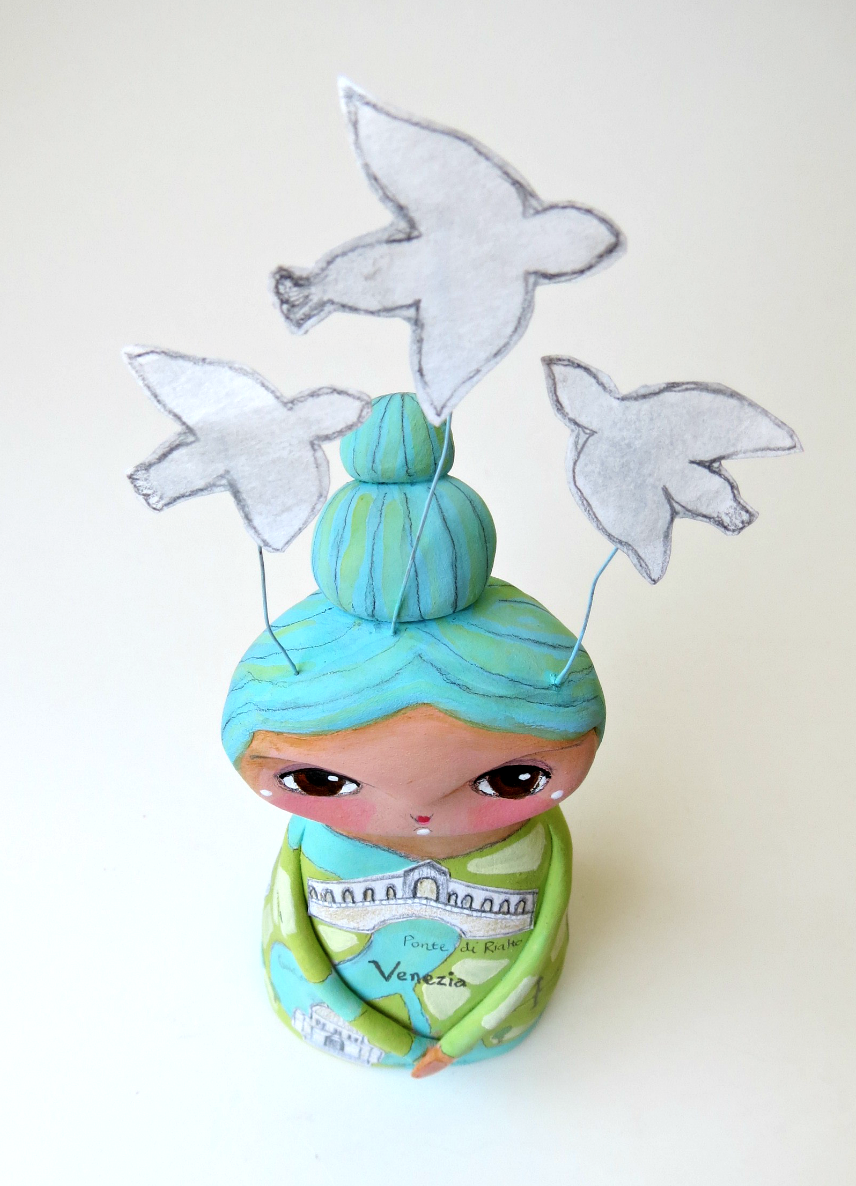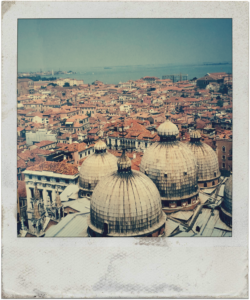 Looking through our Venice photo album to get inspired, and yes, we actually took photos and had them developed back then, got me all nostalgic thinking and remembering our own trip there, 20 years ago (gulp, did I really need to look that up?). Seems like yesterday though. Is it the gondolas, or the gondoliers even, navigating among the canals, under beautiful bridges, monuments, piazzas and churches? Is it that you feel transported back in time? Is it the gelatos or the wine? The pigeons, maybe, in Piazza San Marco or the Basilica? Is it the Ponte de Rialto, Campanile, Palazzo Ducale, Scala d'Oro, Ponte dell'Accademia, Riva del Vin, Santa Maria della Salute or Grand Canal? Found in the waters of the Adriatic, Venice is a priceless gem, to be sure! It's simply one of those places that you visit and lock in your heart's treasure chest forever!
Oh, the views from the Campanile on Piazza San Marco! Amore mio!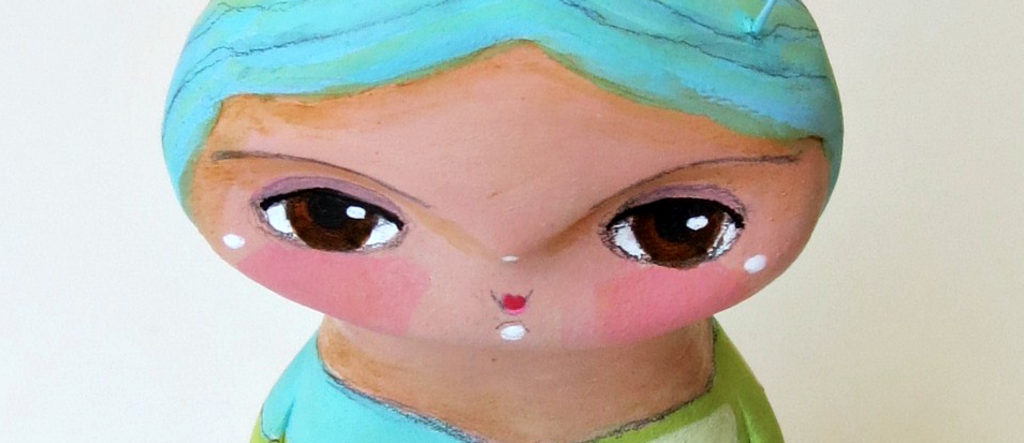 Venezia, therefore, was lovingly made to look like an illustrated map of this enchanting and whimsical city! To  imitate the paper element of a map I decided to draw the 'star sites' on paper, cut out and position them on the painted network of canals. Her hair style echoes the dome of the fairy tale Basilica di San Marco.
The three pigeons, just flown in from Piazza San Marco no doubt, represent resilience, perceptiveness and devotion, three pigeon traits which would do us some good too. Pigeons are resilient, they feed on whatever they can find and get used to living in tough conditions. They have a good understanding and awareness of everything around them, and are, hence, perceptive. They are devoted. Sometimes they are kept as pets and can get attached to people. When this happens, they may fly away, but they will almost certainly fly back!
Oops, there you go, train of thought glitch: for some reason Olivia Newton John's song Hopelessly Devoted To You just popped into my mind!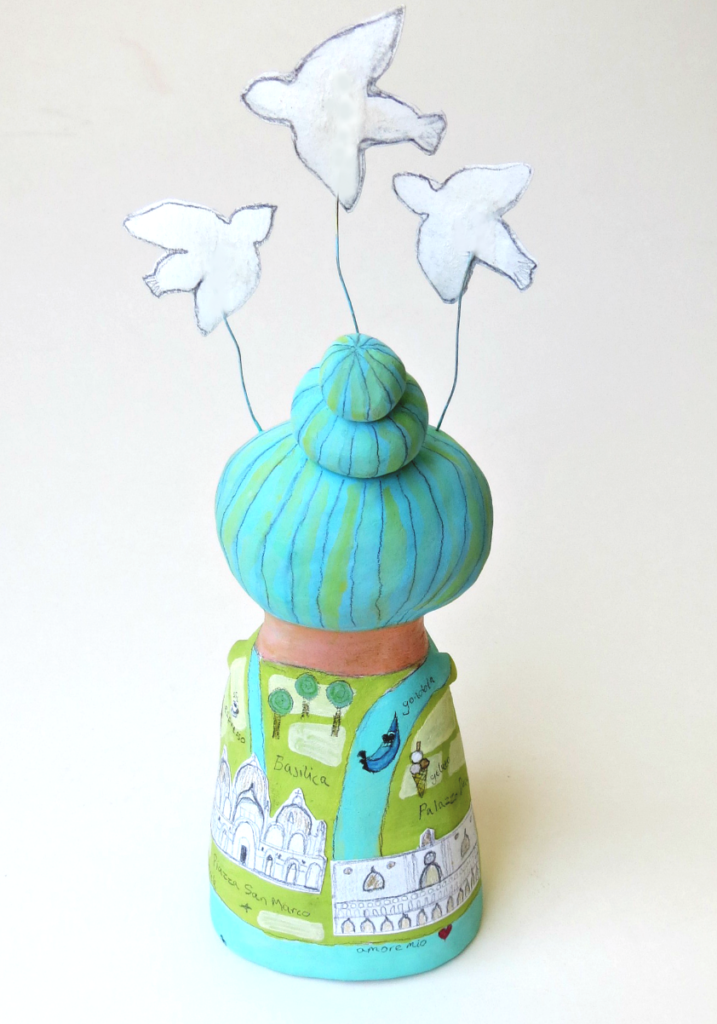 Venezia may be inspired by Venice but she is also here to remind us that,
"

When we allow ourselves to explore, we discover destinations that were never on our map.
– Amie Kaufman
So never stop exploring! You never know what treasure is hiding on your map…and beyond!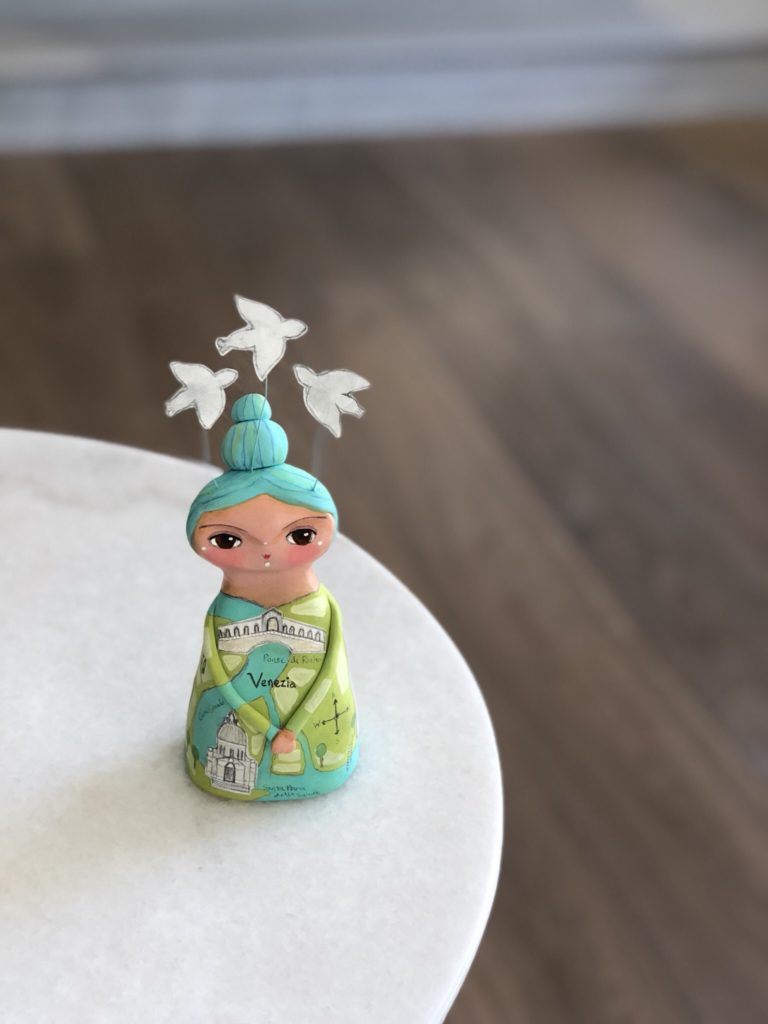 P.S. Where did I travel to this summer, if you were wondering? Charming Copenhagen … but that's for another post!
Filakia Sophie