Baile Baile Baile
Posted on
August 30, 2018
Flamenco is an art form that has its roots in various folkloric music traditions of southern Spain but it is also thought to be influenced by many world cultures, including Latin American, Cuban, and Jewish traditions. Although, the dance or baile is usually the first thing that comes to our minds when we think of flamenco it actually encompasses cante (singing), toque (guitar playing), palmas (handicapping), pitos (finger snapping) and jaleo (vocalizations and chorus clapping)!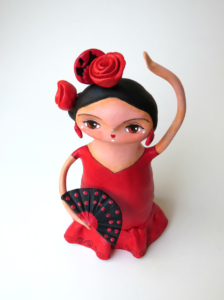 Beautiful Carmen is passionate about flamenco! When she dances you can sense her emotional intensity and can only admire the expressive use of her arms and rhythmic stamping of her feet! She wears her fiery red traje de flamenca, adorns her head with flowers and a decorative hair comb and even uses her beautiful fan to express her love to her secret amore! Oh yes!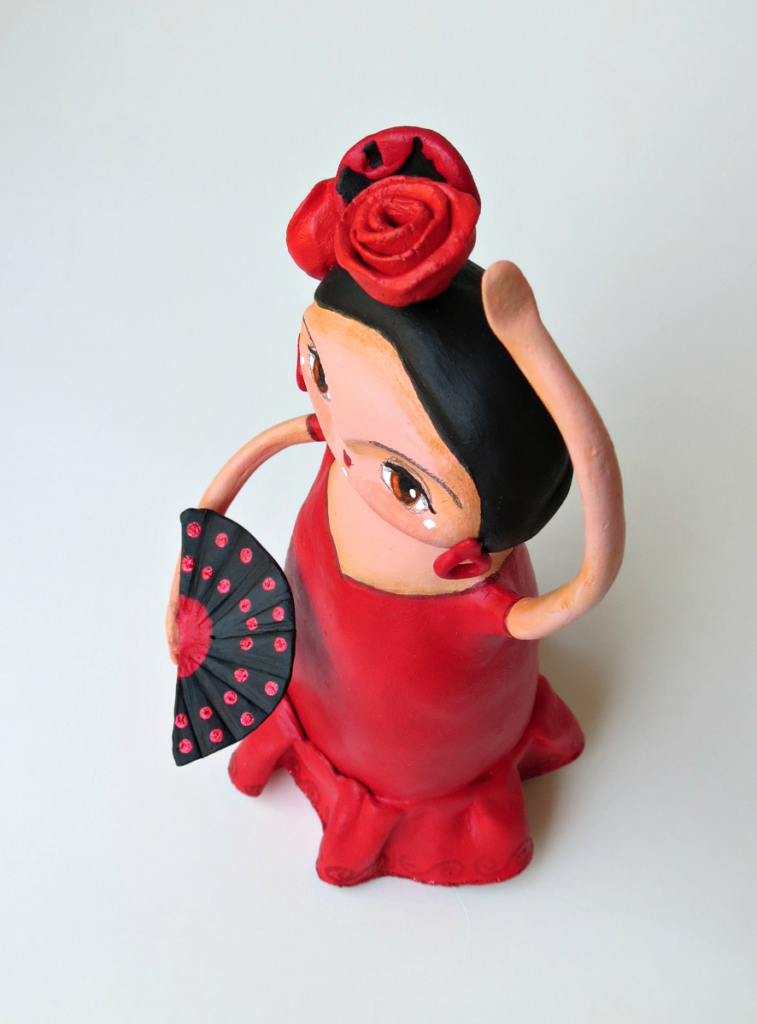 While researching flamenco I found out this amusing little titbit: during the 19th century in Spain, when single ladies went out dancing, they were not allowed to meet boys on their own. They had to be accompanied by a chaperone who would stay by their side and not let them out of their sight. So the young ladies had to find a way to communicate with their young admirers. A secret language was started using, what else, their fans! Depending on how they held or moved their fans, the boys would understand what they were trying to say, but not the chaperones! Here are a few examples from www.livinglanguage.com
Open fan over the chest showing the design "Yes"
Open fan over the chest showing the back "No"
Open fan covering one of the cheeks "I like you"
Wave fan very fast "I really like you"
Wave fan very slowly "I am not interested"
Open fan covering your nose "I want to see you"
Closed fan near the heart "I love you"
Open fan placed over lips "Kiss me"
Hit close fan against hand "Leave me alone"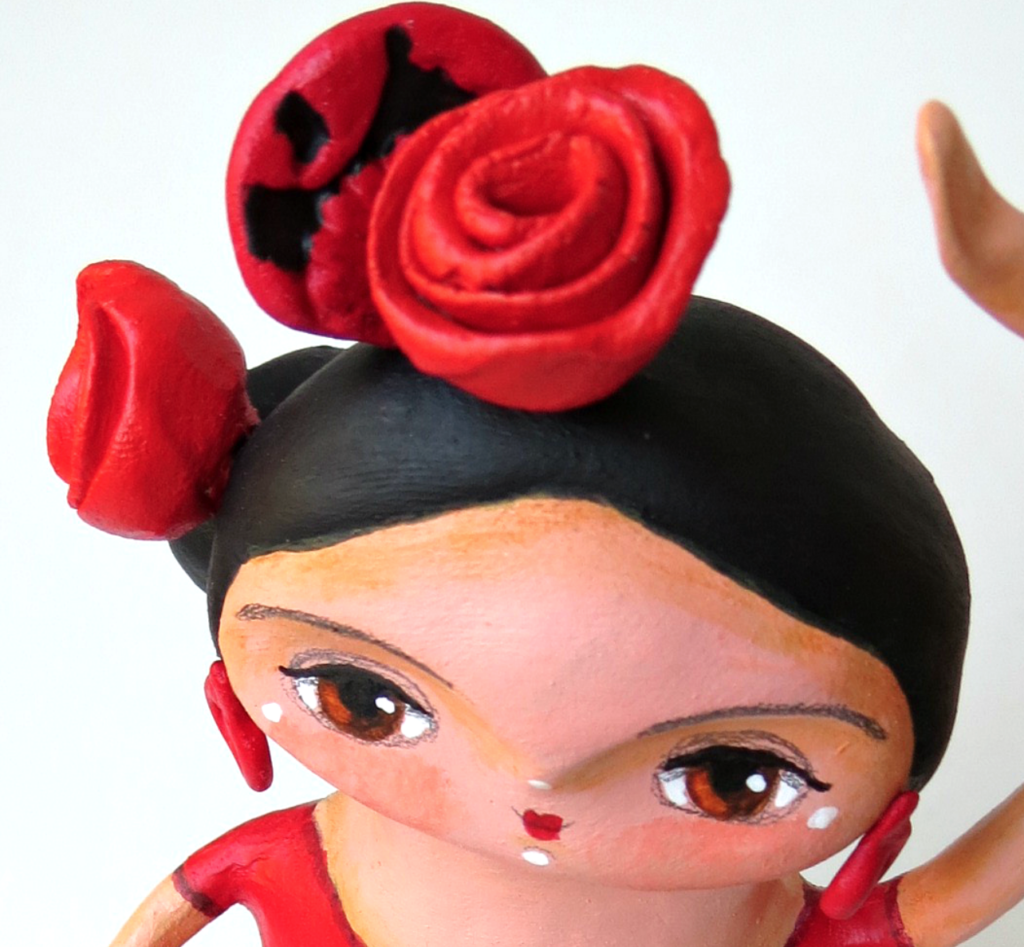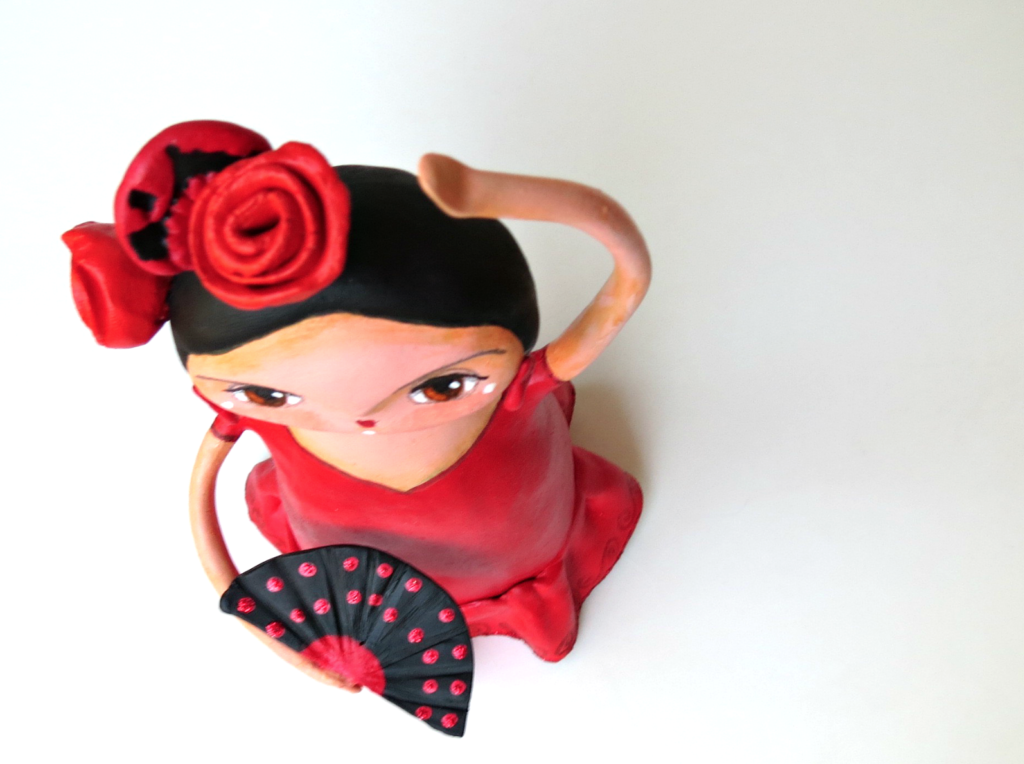 I loved making Carmen. It was such a challenge, getting her arms to look like she has some movement, making the ruffles on her dress and adding her earrings and fan! It's these little details that make each doll truly unique! That's why I love making my dolls, from the research, sketches, sculpting, painting, to finding the name and writing up the blogpost.  It's about learning and not being afraid to try new things; after all, it's only clay and paint. But it's enough to make me happy and, possibly, bring a smile to someone's face!
¡Hasta la vista! And don't forget to,

Filakia, Sophie