Inspired by Agatha Ruiz de la Prada
Hello everyone! I hope you are well and looking forward to the weekend! This, my lovelies, is Agatha Feliz! She is inspired by Agatha Ruiz de la Prada, the wonderful Spanish designer, and one of the dresses from her Fall 2009 Ready-to-Wear Collection! As you can see, Agatha Feliz is unapologetically wearing her colourful, bold and quirky outfit and is confident that she will make an impact on you, hopefully make you feel happy or at the very least bring a smile to your face!
Agatha Ruiz De La Prada was born in Madrid and her designs, even fr0m her very first collection in 1980, never follow the  international catwalk trends! In fact, she has taken an anti-establishment stance to the fashion industry! Before she became a designer she wanted to be a painter and I think that really shows in her designs. If she had been a painter it's evident that she would be a contemporary painter, a pop art painter! Her designs are always bright, bold, colourful and wonderfully whimsical!  Google Arts and Culture has a lovely slideshow about her life and work if you would like to find out more and be sure to check out her latest Spring Summer 2021 show here!
Her love of design is by no means limited to fashion. Her happy designs also extend to fashion accessories, ceramic tiles, household items, books, perfumes, stationery and even pet accessories, to name but a few!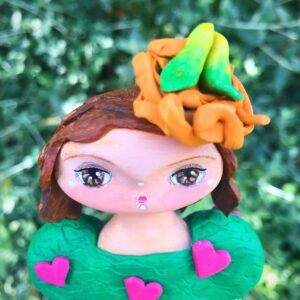 Agatha Feliz wants to inspire us to be creative with the clothes we wear, not to shy away from colour and just have fun because it's something that is sure to lift our spirits and has the added benefit of making others happy too!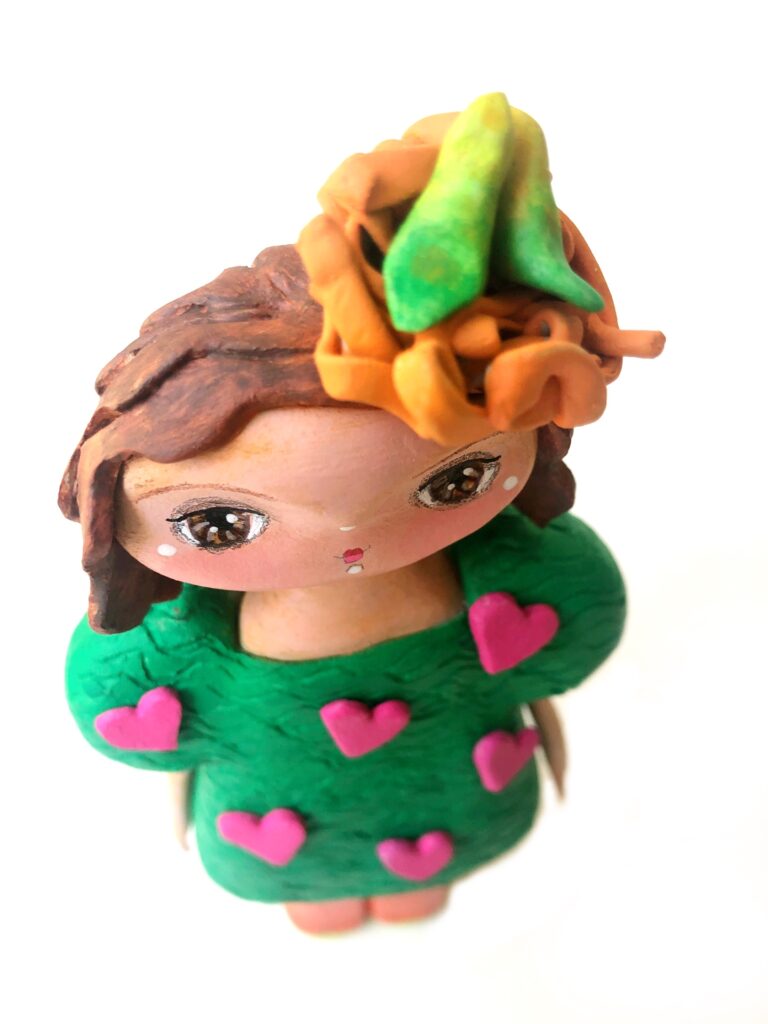 "

Never, ever underestimate the importance of having fun!
– Randy Pausch
As you can imagine I loved creating this art doll. I was commissioned to create her as a farewell gift to a work colleague that was leaving a company, a company that sells specialised building materials, ceramic tiles and sanitary ware. The young lady commissioning her wanted something that would remind her colleague of the company. So, my initial thought was to get inspiration from some of the ceramic tiles they sold, surely they had some with nice patterns, etc. And then she called, full of enthusiasm, to tell me that they were the importers of tiles designed by Agatha Ruiz de la Prada! I cannot express the joy of her designs! Agatha Feliz was the result!
Enjoy your weekend!
Filakia, Sophie
P.S. You might like to check out this other fashion related art doll if you enjoyed this post!
#inspiredby #agatharuizdelaprada #popart #contemporaryart #fashion #customartdoll #OOAKartdoll #artdoll #claydoll #sculpture #figurines #art_we_inspire #drawadot #sosophieartdoll #loveartandbeyond 
If you enjoyed this post, please consider sharing!