Anna Karenina
Happy World Book Day everyone! Yes, today is the day we celebrate the magic of reading books! Every year, World Book Day falls on the same day in the UK, the first Thursday in March. So for 2020 that is today! Whether a biography, romance, science-fiction, historical, thriller, horror, self-help or a good old classic, today is the day we celebrate all those wonderful authors who with their written word inspire, entertain and educate us! And, may I say, nothing beats the feeling of holding a book and turning its pages, even smelling its pages!
#worldbookday #worldbookday2020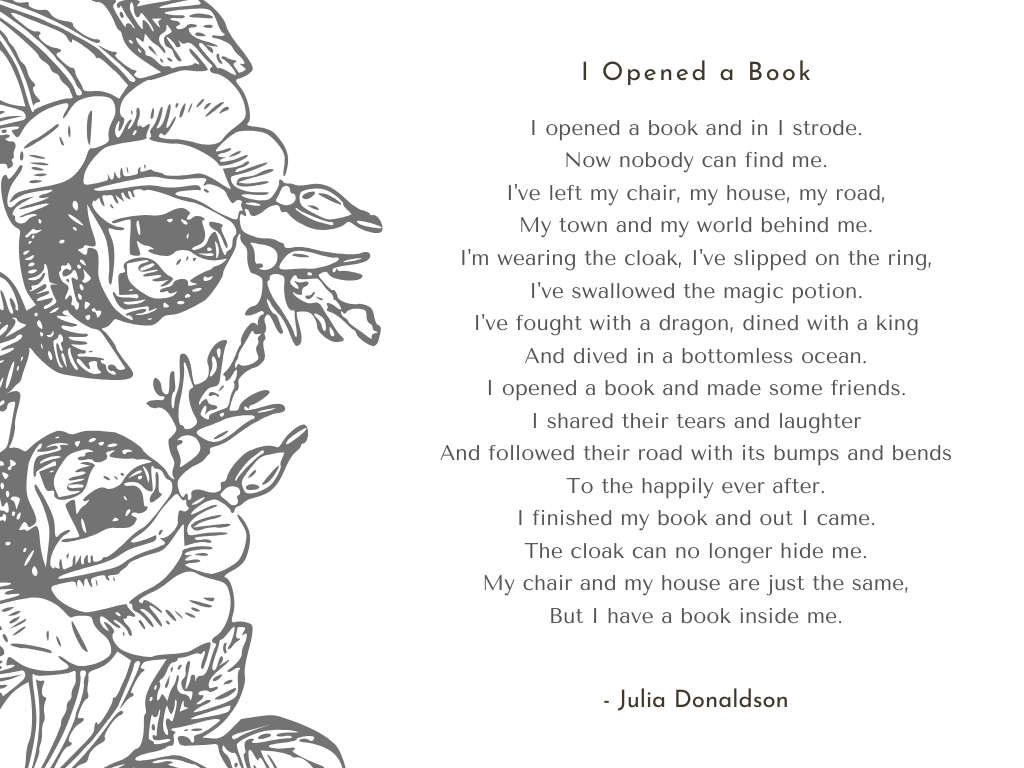 I found a really good article about why reading is good for us, you might like to read it HERE. Reading really helps us grow mentally, emotionally and psychologically. With every book we read there is an opportunity to learn new things, explore new ideas and use our imagination.
Anna Karenina by Leo Tolstoy
I am currently reading Anna Karenina by Leo Tolstoy and I must admit I am obsessed! When one of my lovely Gift Voucher recipients requested an Anna Karenina inspired art doll, well, it was the perfect reason to start reading it!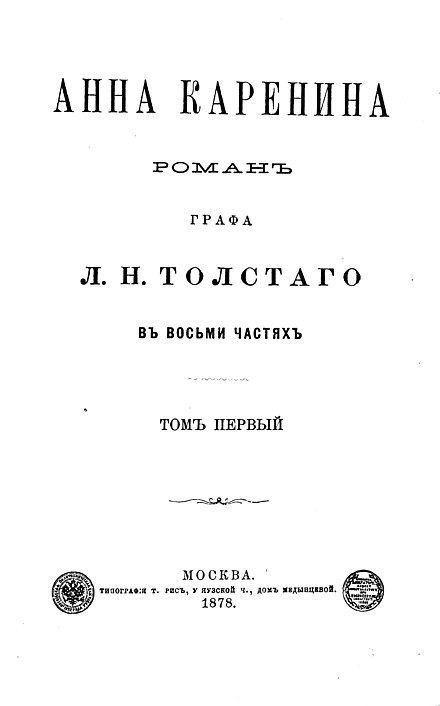 Cover page of the first volume of Anna Karenina, Moscow, 1878
Many writers consider Anna Karenina («Анна Каренина») as the greatest work of literature ever. Wow! It was initially released in a series of instalments in a Russian literary journal from 1873 to 1877. Anna Karenina is a story of then, today and always, in my opinion, because it deals with so many issues, many of which are still relevant today. I wouldn't dare to attempt to summarise or analyse Tolstoy's arguably most famous work. Instead, I humbly offer, a list of words that may serve as a glimpse into his masterpiece.
✽ social rules ✽ attraction ✽ passion ✽ love ✽ hate ✽ lust ✽ jealousy ✽
✽ desperation ✽ position ✽ role ✽ place ✽ mother ✽ husband ✽ wife ✽ partner ✽ friendship ✽
✽ mental health ✽ obsession ✽ prejudice ✽ compassion ✽ countryside ✽ city ✽
✽ simplicity ✽ children ✽ limits ✽ burden ✽ fate ✽ gender ✽ pride ✽ judgement ✽
✽ misunderstanding ✽ miscommunication ✽
✽ purity ✽ shame ✽ forgiveness ✽ honour ✽ family ✽ debt ✽ property ✽
✽ position ✽ ranks ✽
✽ upper class ✽ peasants ✽ train ✽ hypocrisy ✽ patience ✽ isolation ✽ ownership ✽
 ✽ struggle ✽ defiance ✽ dilemma ✽ religion ✽ death ✽ heart break ✽ joy ✽
✽ grief ✽ guilt ✽ tragedy ✽ betrayal ✽
✽ trust ✽ vengeance ✽ downfall ✽
"

Can one ever tell anyone what one is feeling?
– Anna Karenina
Although, I have yet to finish the book, I'm on page 390 out of a total of 963, I'm so excited to introduce my Anna Karenina inspired SO SOPHIE mixed media art doll.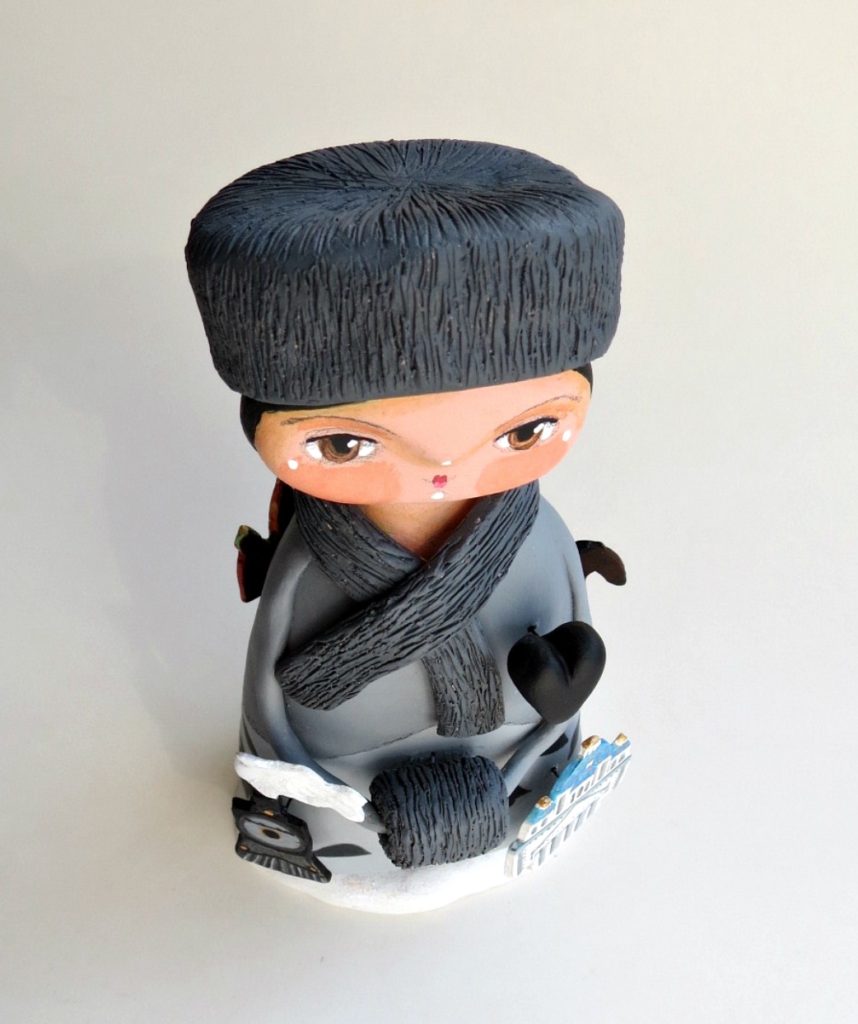 Anna wears her grey, winter outfit as she ventures outside. Grey is often described as cool, neutral, balanced and emotionless. Quite the opposite of Anna. I used grey for her outfit to symbolise her loss of appetite for life, the bleakness of her situation and her depression.
I included Saint Basil's Cathedral to represent Moscow and the Trinity Cathedral to represent St. Petersburg, two cities that feature in Tolstoy's novel. But wherever Anna goes, even when in the countryside, her heart is heavy and blackened. Is the fate of  Vronsky's horse, Frou Frou, the fate of Anna herself? She is broken. And I obviously had to include a train for it is the beginning and the end.
…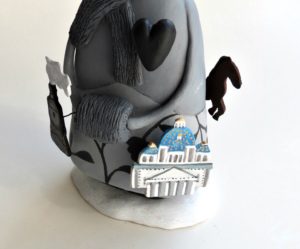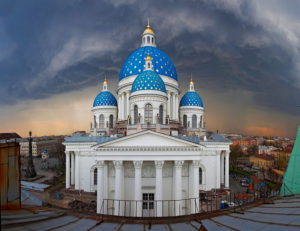 Trinity Cathedral, St.Petersburg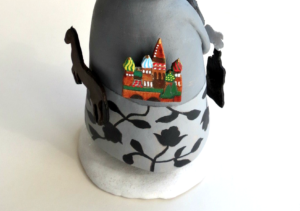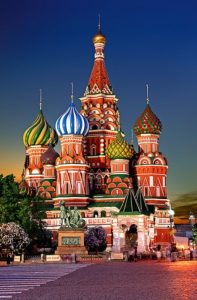 Saint Basel's Cathedral, Moscow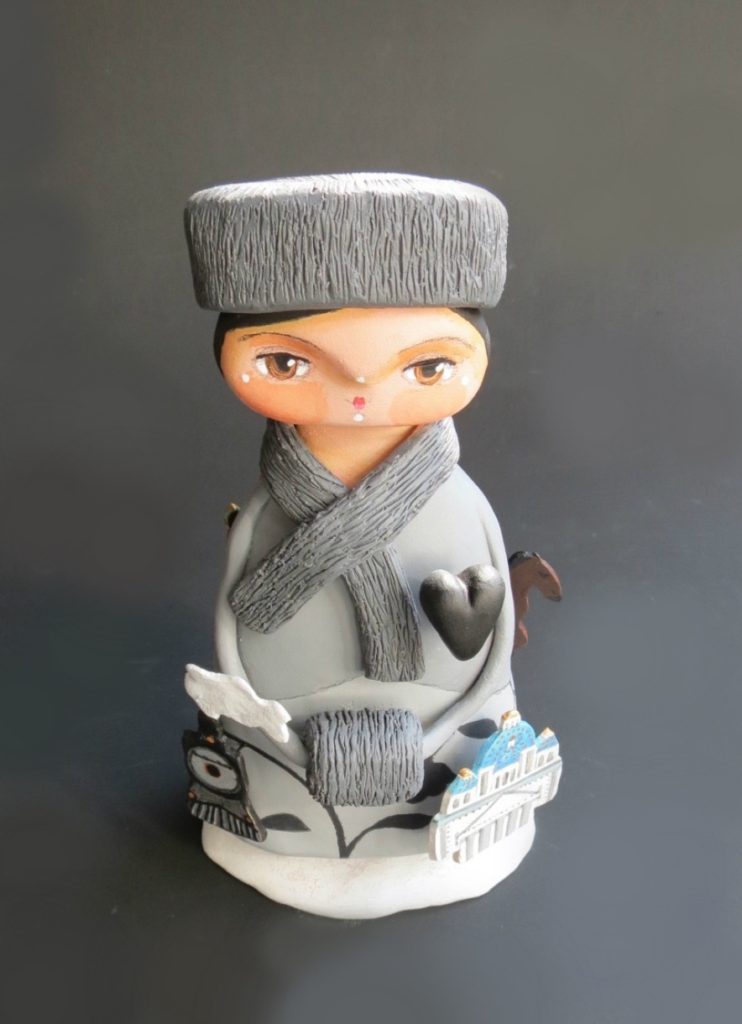 If I've left you with a touch of melancholy it's no surprise when the topic is Anna Karenina. In my mind it is a tragic story, and not necessarily a tragic love story. But Tolstoy does not want to leave us in despair and reminds us that:
"

All the variety, all the charm, all the beauty of life is made up of light and shadow.
– from Anna Karenina Part I Chapter 11
And as said beautifully by Maura Kelly in her article in the New York Times, on February 6th 2019:
"

The clouds will descend again before too long, of course. But life's bright joys can likewise rise up again, its great stories can lift me again, as long as I stay alive for them.
Happy World Book Day and happy reading my lovelies!
Filakia, Sophie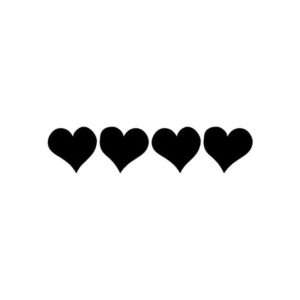 If you enjoyed this post, please consider sharing!