Moena Decora Kei 百笑来
Posted on
January 15, 2021
Hello my lovelies! I hope you are doing OK! We are in our second lockdown here in Cyprus. I am grateful that I have some really exciting commissions to keep me busy and my mind occupied! I don't remember if I have mentioned it before but I've also been watching a lot of doll repaint videos on YouTube recently! Some of these doll repaint artists are so talented, seriously! I really am in awe of their work! I love the attention they give to the eyes especially! And it's wonderful to watch their creative process in their videos! I have fallen in love with the decora kei fashion inspired dolls by Dollightful, Mozekyto, Moonlight Jewel and Doll For Heart! How could I not be inspired by these amazing art dolls (and artists)?!
So what is decora kei?
Decora kei is a fashion style that originates from Tokyo's Harajuku district in Japan! It's colourful, playful, damn cute and is all about dressing up and having fun! 'Decora' comes from the Japanese word for 'decoration' (デコレーション) so it's no surprise that the quintessential element of decora is to wear as many brightly coloured 'decorations' or accessories as you can: hair clips, bracelets, necklaces, rings, socks, brooches, even band-aids with colorful patterns on the bridge of the nose! Any accessory, the cuter the better! And it's certainly a case of 'more is more'! Minimalists will need to look away! You might like to watch Refinery 29's video What Harajuku Girls Really Look Like to get an inside look!
And here she is! My decora kei inspired art doll, Moena!
It was so much fun to create Moena! I especially loved adding all the little hearts and twinkles on her face, glitter in her eyes and I even used some eyeshadow to add extra sparkle to her face, one of the many things I learnt from my beloved doll repainter artists! The accessories were especially fun to make: smiley face, candy, sweet, ice-cream, donut, four leaf clover, cute bunny, stars, hearts, watermelon slice. But I also added lots of other accessories I had in my creative stash! It took me an hour and a half just to place and glue them all on!
But it was worth it! I love how she came out! And her name? Well I decided to call her Moena from the Japanese 百 (mo) meaning "hundred", 笑 (e) meaning "smile, laugh" combined with 来 (na) meaning "to come". Because I can't help but smile when I look at her!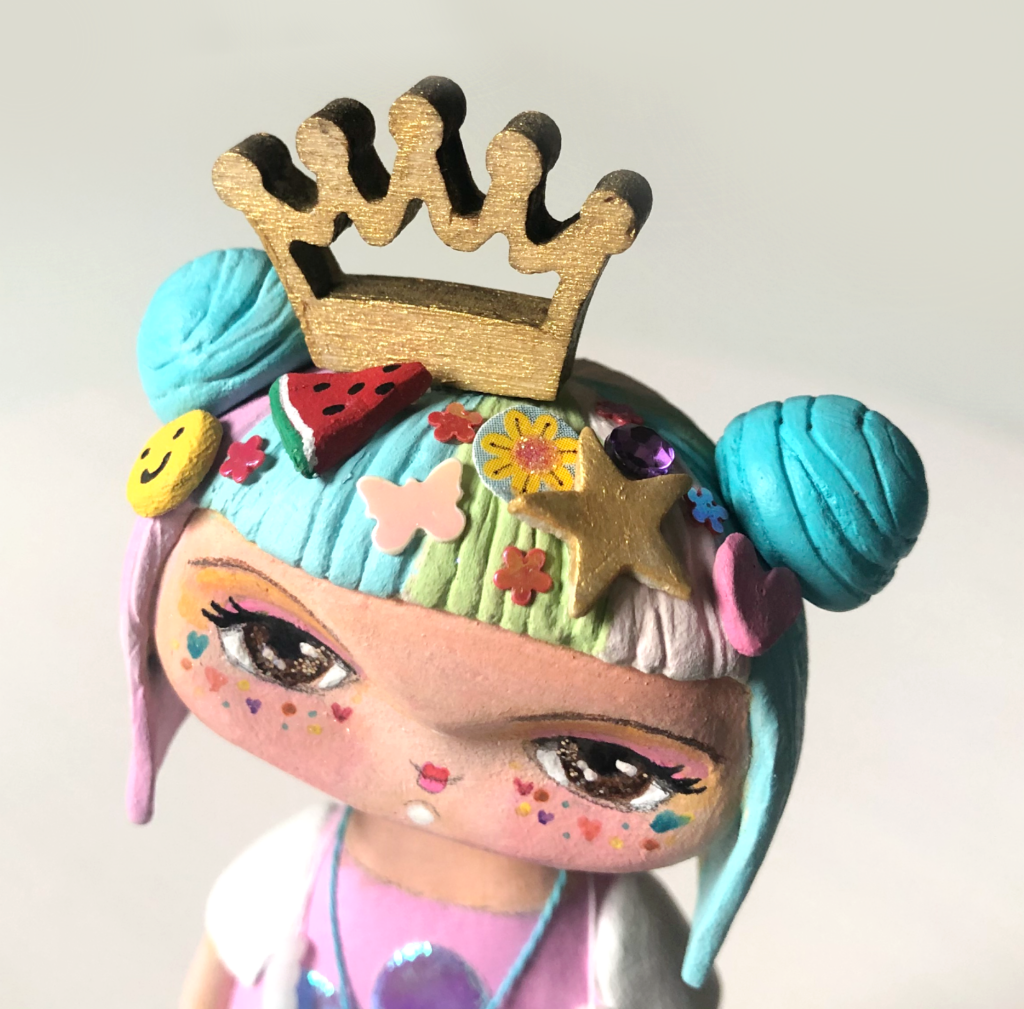 She is the first of 3 art dolls I have been wanting to create inspired by Japan! Can you guess what the next one will be? Well, that's all for now! I'm just going to put on all of my brooches and all of my bracelets and all of my necklaces and take the rubbish out! Lockdown outings! Moena and I wish you smiles and sparkles!
Take care and stay safe!
Filakia, Sophie

P.S. Moena is available if you are interested! Just send me a message for more details if you are!
P.P.S. Check out some more SO SOPHIE art dolls here!!
#inspiredby #decorakei #decoradoll #dollrepaint #kurebayashi #fashionartdoll #artdoll #sculpture #customartdoll #claydoll #OOAKdoll #dollstagram #rainbowdoll #harajukufashion @dollightfully @mozekyto @moonlight_jewel_dolls @kukladlyadushi
If you enjoyed this post, please consider sharing!